The 11th Annual Wonderland Auction is December 7th. Please visit the event page to get information on how to purchase tickets, be a proxy bidder and volunteer. The live auction items below are as valuable and inspiring as the wildlands they were donated to save! Thanks to all our donors.
Live Auction Items: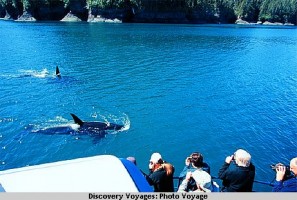 Small Ship Wilderness Cruise for 2 on Alaska's Prince William Sound
Take the trip of a lifetime on Alaska's Prince William Sound. Two people will climb aboard the Discovery, a 65-foot ship featuring panoramic views and wrap-around deck. Spend 5 nights in a private cabin and 6 days watching orca, humpbacks and otters or kayak next to calving glaciers. Enjoy hikes and land excursions featuring grizzlies, wildflower meadows and hidden waterfalls. Too many features to list here.
(Donor: Dean Rand and Discovery Voyages)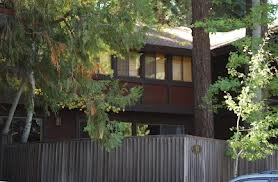 One Week at Tahoe Condo: (dates TBA)
Spacious (3 BR, 2 1/2 BA) Tahoe condo at Tahoe Tavern Shores. Just steps from the Lake near Tahoe City on the California side, this comfortable vacation home sleeps 7-8 and is within walking distance of all amenities.
(Donors: Bill and Mary Ferris)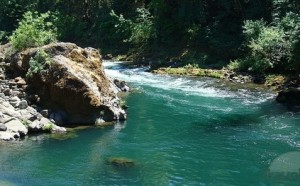 Whitewater Rafting for 8 on the North Umpqua River
Raft the deep emerald waters of the North Umpqua River! You and 7 friends (rafting for up to 8 people) will spend a day floating through stunning mountain scenery and lush primeval forests. The Umpqua is the most pristine watershed in the southern Cascade Range and home to thriving salmon runs. You'll have a blast riding class 3 rapids and are guaranteed a thrill through a few class 4 rapids! This trip will include option of your choice of paddle rafting, which means you actively paddle with a guide, and/or riding on guided oar boats, which means you can relax, watch the wildlife, and just enjoy the ride. This whitewater rafting adventure on the world renowned North Umpqua River will be a fun-filled day to remember! Available any mutually agreeable date May-July 2013–spring run off or hot summer day, you choose. Rafting gear, refreshing beverages, and lunch provided.
(Donors: Jim Flynn, Barry Martin, and Ralph McDonald)
Music and Double Date Portlandia Style
Mississippi Studios
is offering 4 event tickets and a $50 gift certificate for beverages which is complemented by a night for 4 at
Tierra Soul's guest house
(two rooms) with a second night for a 20% discount. The guest house is a short walk from the Studio and all are accessible by public transportation.
(Donors: Mississippi Studio and Tierra Soul)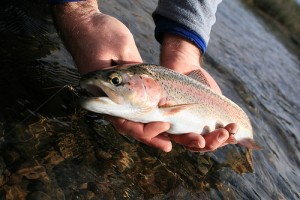 1/2 Day McKenzie River Guided Fishing Trip for 1 or 2
Our friend Chris Daughters–famed fishing guide and owner of Caddis Fly Angling Shop in Eugene will take a party of one or two downthe fabled McKenzie for an unforgettable 1/2 day guided fishing trip.
(Donor: Chris Daughters)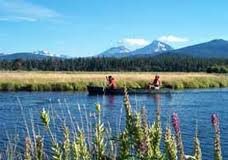 Weekend Stay at Black Butte Ranch House: (from September – May)
Weekend stay at a spacious (1600 square foot, 3BR, 1.75BA, sleeps 11) Black Butte Ranch golf home (click here for pictures of unit and description). BBR is 7 miles west of Sisters, Oregon on Highway 20.
(Donors: Susie and Steven Jacobson)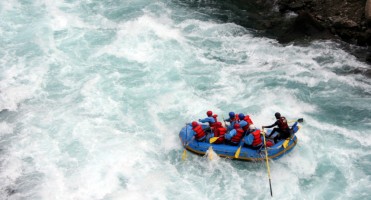 Whitewater Adventure for 10 on the McKenzie
Spend a day rafting a world–class river in your own backyard: the mighty McKenzie! Bring up to 9 of your friends for a summer 2013 trip complete with lunch, beverages and rafting gear. Enjoy a day in the sun and class 2-3 rapids. Great fun for all experience levels! Fun guaranteed.
(Donors: Josh Laughlin and Tim Whitley)
The Inn at Langley:
One night stay for two in a waterfront guestroom featuring a fireplace, jacuzzi, and gourmet buffet breakfast at the luxurious Inn at Langley on Whidbey Island in Washington State. Relax and take in breathtaking views of the Cascades from your own private balcony overlooking Puget Sound, beachcomb, explore Langley (the "Village by the Sea), and enjoy a specially prepared gourmet dinner by award-winning chef Matt Costello showcasing the products of Whidbey's own farmers. (Includes tax. Does not include beverages or gratuity, and not for use June-September.)
Note: Whidbey Island is a short 30 min drive and quick ferry hop from Seattle.
(Donor: The Inn at Langley)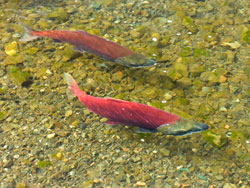 Alaska Salmon Package
Our friends and conservation partners at the
Eyak Preservation Council
in Cordova, Alaska are donating 5 sockeye salmon (15 pounds finished weight in 10 fillets) and one Chinook salmon (12.5 pounds finished weight in 20 fillets). Available late spring/early summer 2013.
Handcrafted Cedar End Table Block
A beautiful, handcrafted, Alaska yellow cedar end table block from master woodworker Kim Hoelting. Kim, owner and founder of
Live Edge Woodworks,
believes that every piece of wood has a story to tell. He personally peruses unique salvaged wood sources – such as old barns and water tanks, driftwood piles, demolished buildings, and abandoned culled forests and orchards – to find the one-of-a-kind salvaged timber that few others have access to. (another smaller piece available in silent auction).
(Donor: Kimball and Heidi Hoelting)
3 Nights at The Oregon Cliff House
Situated on a private acre and a half with spectacular McKenzie River views from every room, the Oregon Cliff House makes you feel like you are faraway from any stress or worry. This beautiful 1800 sf home (3 Bedrooms, 2 Baths Sleeps 6-7) has inlaid hardwood floors, granite and tile throughout, and carpet in the bedrooms. It has a built-in bbq inside and two more outside. There is a horse shoe pit, a seven site campground, and a wiffle ball field complete with a home run fence, warning track, pitching mound and backstop. There is also a fire pit and parking for 20 cars. A large deck overlooks the river and stairs built in to the cliff offer water access. The river is shallow enough to walk out to the middle and fly fish a great channel in the late summer and fall months. Auction item must be used within one year and major holidays are excluded.
(Donor: Shaun Nugent)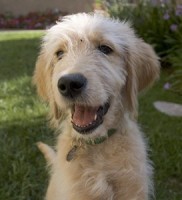 Pamper Your Pooch
Have peace-of-mind while on vacation as Eugene's favorite dogsitter (and whisperer) extraordinaire, Joe Brittson, watches over your dog child for one week (all at once or a variation totaling 7 days). Joe's unparalleled services have his clients (and their dogs) beckoning for more.
(Donor: Joe Brittsan)
Explore Cascadia's Northern Frontier
Enjoy a three-night stay at the Orca Adventure Lodge on the east side of Prince William Sound near Cordova, Alaska. Explore glacier-covered mountains, kayak the Sound, hike lush rainforests, fish for salmon, and view grizzly bears during your stay at this historic, restored cannery. Airfare not included.
(Donor: Steve Ranney)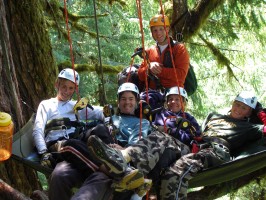 Lunch for Two in an Old Growth Tree Top
Get a Marbled Murrelet chick's view of the world from the top of an old growth tree you have climbed yourself with a team of professional guides. This package includes an orientation, all equipment, professional instruction and scrumptious organic lunch in a "tree boat" (a sturdy canvas hammock in the tree top). This adventure is sure to be fun, if not life-changing.
Romantic Oregon Coastal Interlude
A couple will escape the valley and stay two nights in a secluded and intimate cabin in the dunes eight miles north of Florence. The fully furnished cabin has no immediate neighbors, has a gorgeous view, and shares the landscape with bears, beavers, elk, deer and a myriad of bird species. A short hiking trail outside the cabin will lead you to the Pacific Ocean. Dates to be arranged with owner.
(Donor: Anonymous)
2 Night Stay in Willamette Pass Cabin
Spend two quiet and natural nights in a beautiful private mountain retreat (sleeps 6) sited on a creek near Willamette Pass, Odell Lake, Crescent Lake, Waldo Lake and the Diamond Peak Wilderness. Enjoy the Oregon Cascades in the way they should be enjoyed any season you like.
(Donor: Pat and Sally Knox)

Nick at Night Package
This is our mystery package, so stay tuned. What could this be? You'll simply have to show up to find out. You will not be disappointed.
Get your tickets here
.
(Donor: Anonymous, because this could be a clue)
What is Wildness Worth? (Paddle Raise)
In years past we have asked auction attendees to raise their paddles and make special donations to Cascadia Wildlands. Two years ago this was to support our work in the Elliott State Forests—now we have a preliminary injunction stopping clearcutting of mature stands in the Elliott, Clatsop and Tillamook state forests. Last year we asked you to raise your paddles for wolves and now we have nearly 50 wolves in Oregon, control actions are blocked until our suit is settled, and we have a wolf wondering in California. And this year we will ask you to raise your paddles to help us stop
suction dredging for gold
in Oregon's rivers like the Rogue and Umpqua. We need $10,000 and we hope you will help us reach our goal.
(Donor: You)
A Week in the Hamptons
Stay for 6 nights in the fabled Hamptons—one of New York's premiere vacation destinations. Unwind in a comfortable 4 bedroom home–sleeps 8-10–with a hot tub located near wine tasting, shopping and ocean beaches. This is the perfect end destination or compliment to your trip to NYC or the Northeast. This home is available after Labor Day weekend until before Memorial Day weekend with possible weeks in June.
(Donors: Barbara and Walter Higgins)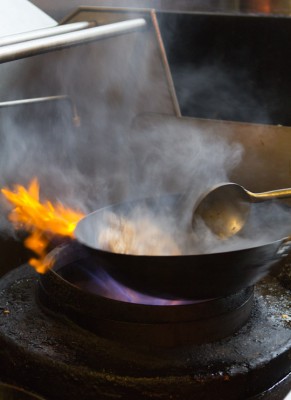 Going Thai with Bev McDonald
Fabulous 4-course Thai dinner for six served in your home. Includes green papaya salad or Tom Kha soup, Phad Thai with fresh vegetables, Masaman Curry with sticky rice and Thai dessert. Vegan or vegetarian option, limited to Saturday nights only. Elegant and easy! Expires December 31, 2013.
(Donor: Bev McDonald)