November 25, 2013
For Immediate Release
Contact: Josh Laughlin, Cascadia Wildlands, 541.434.1463
Alyssa Lawless, Mountain Rose Herbs, 541.741.7307
Eugene—On Saturday, December 14, Cascadia Wildlands, in conjunction with Mountain Rose Herbs, the University of Oregon Outdoor Program and other community sponsors, hosts a 15-year celebration at the 11th annual Wonderland Auction. This event is from 6-10 pm at the University of Oregon's EMU Ballroom and promises to be a night to remember.
The evening will feature live jazz by the Liaisons Duo (Eugene's Sean Peterson and Laura Kemp), a gourmet dinner by Ring of Fire, Ninkasi brews and local wines, exciting live and silent auctions and abundant holiday cheer. Proceeds from the event directly support the conservation work of Cascadia Wildlands, including restoring gray wolves back into the Pacific West, safeguarding threatened old-growth rainforests, and recovering wild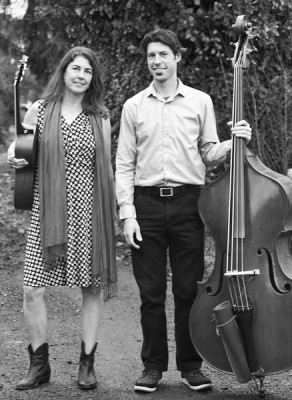 salmon and steelhead.
"This event is to celebrate our first 15 years of conservation successes with the community members and businesses that helped us realize our goals," says Josh Laughlin, Campaign Director of Cascadia Wildlands. "It is also an event to raise operating revenue for our lofty conservation plans and help usher in the next 15 years."
Nearly two hundred businesses have contributed to the event, from cash and in-kind sponsorship to those who donated goods, services and other products. Mountain Rose Herbs, with headquarters in west Eugene, is the event's lead sponsor for the seventh consecutive year.
"It's such a pleasure to partner with a local non-profit that both works to protect endangered species like the gray wolf and throws a great party!," says Alyssa Lawless, Director of Sustainability at Mountain Rose Herbs. "Over the years, our relationship has grown, and we continue to be impressed with Cascadia Wildlands' efforts to conserve the unique bioregion that we value and rely on to make our business successful."
Exciting live and silent auction items include a three-night stay at the Cliff House on the beautiful McKenzie River, a three-night getaway at Orca Adventure Lodge on Prince William Sound, rafting trips on the McKenzie and Umpqua Rivers, fine wine and vineyard tours, flyfishing trips, a gourmet dinner with Cascadia's President and First Lady, lunch for two in an old-growth tree top, and much, much, more.
Other Wonderland Auction sponsors include: Back to the Roots Landscaping, Café Mam, Eugene Weekly, Genesis Juice, Kore Kombucha, Coconut Bliss, Marché, Vanilla Jill's and Green Solutions Printing.
The cost of the event is $40/person in advance, $50 at the door. Kids 12 and under are free. Admission includes dinner, drinks, live jazz, live and silent auctions, and holiday cheer. Advance tickets, a live and silent auction preview, and more event information can be found at www.CascWild.org.
*** A high-resolution image of the Liaisons Duo is attached for press use. (Photo courtesy of Sean Peterson)
About Mountain Rose Herbs
Since 1987, Mountain Rose Herbs has been known for its uncompromising commitment to organic agriculture, sustainable business practices, and a steadfast focus on the pure aesthetics and freshness of botanical products. Their wide range of product offerings includes bulk herbs and spices, aromatherapy and essential oils, tea and tea supplies, and natural health and body care. Every aspect of product creation is carried out in accordance with strict quality control and organic handling procedures by employees who care. From fragrant and beyond-fresh organic herbs and spices, to soothing essential oils and delicious herbal teas, the quality and integrity of Mountain Rose Herbs is unparalleled – with smiles guaranteed. To learn more about Mountain Rose Herbs please visit www.mountainroseherbs.com.