Oregon is in the midst of a wildlife recovery success story. After gray wolves were eradicated from the state by 1947, wolves got a second chance after migrating back in from Idaho's reintroduced population. Between 1999-2000 three wolves travelled into Oregon. One was shot dead; one was hit by a car and killed; and one was tranquilized and deported back to Idaho. This compelled the creation of the Oregon Wolf Plan which set up recovery objectives and put into places in 2005 by a diversity of stakeholders. The plan was updated in 2010.
Cascadia Wildlands and partners have successfully litigated a number of times to protect Oregon's recovering wolf population. In 2010 we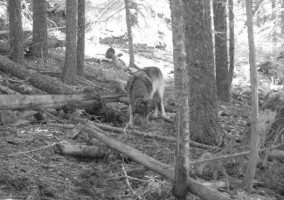 stopped Wildlife Services from killing wolves in Oregon's Imnaha Pack. In 2011 we secured a legal injunction by the Oregon Court of Appeals which halted all lethal control of wolves in Oregon. We used the injunction to leverage a historic settlement agreement with the state and the Oregon Cattlemen's Association in 2013 that created firm sideboards for when lethal control can be used. Livestock producers now must use pro-active non lethal tools to deter conflict between wolves and livestock if a depredation is to count toward the "chronic" threshold when lethal control can be triggered. The Oregon legislature has set up and allocated revenue to a fund that livestock producers can tap into to assist with acquiring non lethal tools and methods.
Today seven wolf packs, made up of approximately 60 wolves, call Oregon home. They are all located in northeast Oregon, and one of the Imnaha pack members, known as OR-7 or Journey to some, recently traveled down into California to become the first wolf to return to that state in nearly 90 years. These key predators are helping to bring Oregon's wild ecosystems back in balance and are keeping Oregon's beautiful wild places truly wild.