We at Cascadia Wildlands are continually grateful for our many and varied volunteers. These dedicated individuals continually amaze us by jumping in and helping us with our work and insuring that we are able to do even more with our precious resources. Our volunteers staff our events and stuff our envelopes at mailing parties. They provide us with technical expertise and take our supporters on hikes to the faraway places we protect. And they make our social networks hum and our campaign actions click. Here are some representative profiles of a few who illustrate what is possible and needed. We are so thankful for all our volunteers.
Interested in volunteering? Please contact our Outreach & Communications Manager, Kaley, for more information. You can reach her at: kaley (at) cascwild (dot) org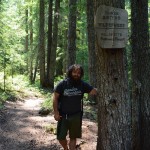 John Williams is a hiker and Cascadia Wildlands supporter whose blog posts on hiking can be found in our Exploring Cascadia. Thanks, John.