Francis Eatherington and I walked some timber sales yesterday near Roseburg (these are her pictures). It was good for us to spend time together because we do not often get to do that—particularly where we get to walk in the
trees and talk in that way that people do when walking in the woods.
In the grand scheme of things neither of the sales was particularly horrendous or anything that made us happy in any way. Did we like them? No. Could they have been better conceptualized? Yes. Were we going to make our feelings known? Yes. Would we sue? Probably not.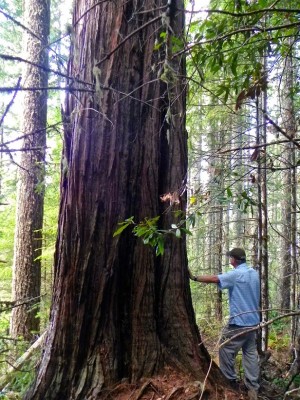 On one site we measured two huge trees (one Douglas Fir and one Incense Cedar) in the 5.5 to 6 foot in diameter range (DBH). Real beauties whose post-harvest future seemed bleak. We took pictures and rubbed our hands with dirt when we encountered the ubiquitous pitch on the surfaces we grabbed as we slipped down the slope and looked for big trees.
I had walked timber sales before and seen clearcuts along with other massively destructive forestry acts, but the whole exercise helped me understand how my world differs from Francis' work in that I work to protect and restore and she has a smoking boot applied as a brake on a runaway stage coach. My world is largely depressing but her world seemed potentially debilitating. (Clearly forests can make me reflective.)
I also had a thought while looking up the hill towards these timber sales. My gaze drifted across the barren expanse of a clearcut on private lands replanted with something approaching 600 seedlings per acre and an emerging flora that only seems to make sense to an herbicide enabled 2X4 but not to anything that would want to live on those slopes. My thought had to do with land ownership.
I have owned large tracts of land (and even harvested timber on those lands) and many members of my family have held that same responsibility. And there is invariably a time when you hold your cup of coffee, day-end cocktail or partner and stare out across your acreage. The words running around in your head differ but generally they are about some kind of pride about the fact that you own the land and are managing it well and responsibly.
The pride-fullness swells most when you know that you are managing the land so that it supports your needs and values as well as not being the aesthetic and ecological disaster that looms in the darkest recesses of your human and wild neighbors' nightmares. If your end result does not meet or exceed these fairly modest criteria—whether you are an individual or corporation—you really ought to ask yourself why not? Now you can rationalize your actions by claiming that it is cheaper, the trees grow straighter or it will all grow back, but you cannot get around the fact that had you done it responsibly that we would not be wrestling now over owls, murrelets, and salmon.
It may seem like an overly simplified notion and far too obvious, but these species did not just voluntarily jump off a cliff. They have been pushed and pushed hard over that precipice. Perhaps as we rush headlong into these must-pass bills to accelerate this "speeding stage coach," we should stop to look at this image of a clearcut and ask ourselves collectively if this fills us with pride and demonstrates our responsible stewardship of lands. Did I mention that walks in the woods make me reflective?