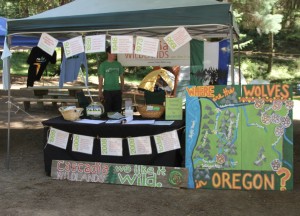 Sign-up here to be a CW Volunteer.
Sign-up here to Volunteer at the Wonderland Auction
We at Cascadia Wildlands are continually grateful for our many passionate volunteers. These dedicated individuals continually amaze us by jumping in and helping us with our work and ensuring that our impact goes far beyong the reach of our small staff. Volunteer opportunities range from technical support to issue-based activism. Our volunteers help with events, run outreach tables, attend rallies, and stuff envelopes at mailing parties. They provide us with tech expertise and lead hikes to the wild places we protect throughout Cascadia. They make our social networks hum and our campaign actions click. We know that your time is extremely valuable and we are thus incresibly grateful for passionate people like you who help us make conservation successes possible. Check out the variety of great ways to get involved with Cascadia Wildlands.
Become A WildCAT: Join the Cascadia Action Team!
The Cascadia Action Team (aka WildCAT) is a group of volunteers who support our ongoing conservation campaigns through education, outreach and hands-on action. WildCAT members run our outreach table at awesome community events such as the Mushroom Festival, the Public Interest Environmental Law Conference, the Oregon Country Fair, the Northwest String Summit, and the Whiteaker Block Party. Members of WildCAT are also plugged in to exciting opportunities to take action from attending rallies to speaking with lawmakers, and leading hikes through threatened public land. There are countless ways to get involved and we are always seeking dedicated, reliable and passionate folks to become part of our WildCAT team!
Crafting and Mailing Parties
We're known for having fun and unique tabling materials at our outreach events, mostly in the form of our signature wolf ears or owl masks that we've brought to Oregon Country Fair in past years. We make it all ourselves with the help of many community members who bring their knack for crafting to our aid. Our mailing parties may not have the same creative flair as our crafting events, but we provide great conversation, snacks and refreshments.
Data Entry
At each outreach event we meet new people excited by our work who want to connect with us in the future. We have a database where all this information is stored and kept up-to-date that needs maintenance after each one of these events.
Give Us a Call!
If any of these opportunities excite you, contact us at 541-434-1463 or send an email to our Grassroots Organizer, Sam Krop at sam@cascwild.org. We'll help find a fit for your interests and schedule.
You can also follow this link to sign-up to be a Cascadia Wildlands volunteer.