Cascadia Wildlands Staff
Left to right: Nick Cady, Gabe Scott, Josh Laughlin, Sam Krop, Kaley CoslowSauer
Nick grew up in St. Louis, playing in the rivers of the Missouri Ozarks. He attended Truman State University where he received degrees in political and environmental science. Nick then traveled west to attend law school at the University of Oregon. When he is not litigating over irresponsible land management and protections for imperiled species, he can be found paddling, howling at the moon, or playing soccer.
Email Nick
Josh was born and raised on sandy Cape Cod. He graduated from the University of Oregon with degrees in Journalism and Environmental Studies in 1998 and worked as an editor of the
Earth First! Journal
until 2001. Thereafter, he teamed back up with Cascadia Wildlands where he has worn a number of hats for the organization. In 2015 he was hired as Executive Director. When not working to protect and restore the watersheds of Cascadia, he enjoys floating down the bioregion's spectacular rivers, playing ultimate frisbee, and raising his kiddos.
Email Josh
.
Kaley is a native West coaster, born in California but grew up in Rhode Island. While spending her summers in California and rural Oregon, it was in La Pine at her grandparents' RV park, fishing in Oregon lakes, and weeks spent at camp where she developed her love for Oregon. This carried her to the University of Oregon where first she received a B.A. in Art History with a minor in Community Arts. She then studied Multimedia Management, Museum Studies, and Non-Profits to earn a M.S. in Arts Management. Kaley loves using good design and thoughtful marketing in order to create effective communications. When not enjoying the outdoors, you can find her sewing and creating art, dancing, and juggling. She loves telling jokes and is always up to hear a new one.
Email Kaley
.
Gabe has been with Cascadia Wildlands from the beginning. He created our Alaska field office in 1998 to protect the northern reaches of Cascadia. When he's not working on protecting the Alaska's wild places, he can be found catching and smoking wild salmon, tromping through ancient forests, and shooting hoops. Gabe was admitted to the Bar in Alaska in 2012.
Email Gabe
.
Sam grew up on the Gulf Coast of Florida, and spent her childhood swimming, exploring mangrove mazes and cypress forests. After she completed her undergraduate degree in Literature, she moved to the west coast to attend the University of Oregon, where she earned a Masters degree in Education. Sam's dream was to combine her love of wild places and her passion for conservation with education and community organizing. In addition to working as a grassroots organizer with Cascadia Wildlands, she teaches at the high school and University levels. When she is not doing education and grassroots organizing, Sam can be found working on land projects on the rural property where she lives, making pies, riding her motorcycle, or swimming in Oregon's wild rivers and alpine lakes.
Email Sam
.
Board of Directors
Julie Bailey
President, Mountain Rose Herbs
Sarah Douglas (Treasurer)
Professor Emerita, University of Oregon
Daniel Kruse (Secretary)
Law Offices of Daniel R. Kruse
Jonathan Leong
Aumakua Capital Management
Sarah Peters
Shannon Rose (President)
Executive Assistant and Constituency Manager at UO Alumni Association
Advisory Council
Amy Atwood
Senior Attorney, Center for Biological Diversity
Jason Blazar
Stewardship Coordinator, Friends of Buford Park and Mt. Pisgah and the City of Eugene Hendricks Park
Ralph Bloemers
Co-Executive Director and Staff Attorney, Crag Law Center
Susan Jane Brown
Staff Attorney, Western Environmental Law Center
Sally Cummings
Employee Wellness Specialist, PacificSource
Alan Dickman, PhD
Research Associate Professor, Biology Department, University of Oregon
Jeremy Hall
Co-owner, Back to the Roots Landscaping
Timothy Ingalsbee, PhD
Executive Director, Firefighters United for Safety, Ethics, and Ecology
Megan Kemple
Farm to School Program Coordinator, Willamette Food and Farm Coalition
Paul Kuck
Energy Manager, Advantage IQ (Sustainability Consulting Services)
Pollyanna Lind, PhD
Geomorphologist and Project Manager, Inter-Fluve
Beverly McDonald
Beverly McDonald Graphic Design
Lauren Regan
Executive Director and Staff Attorney, Civil Liberties Defense Center
Recent Interns/Externs
Renee Seacor (2018)
Renee grew up in the suburbs just north of New York City. She fell in love with the west while attending school at Rocky Mountain College in Montana and graduated with a B.S. in Environmental Science and Studies. Renee is currently attending law school at the University of Oregon. She enjoys hiking, backpacking, kayaking, and exploring the pacific northwest.
Mari Galloway (2018)
Mari grew up on her family's ranch in the California foothills and spent her summers in the Sierra Nevada Mountain Range. She graduated from Humboldt State University with a degree in environmental science and recently finished her first year of law school at the University of Oregon. Mari enjoys playing piano, brewing beer and exploring the Cascadia region via backpacking, trail running, and bicycle touring.
Rebecca White (2018)
Local attorney Rebecca White began donating her time to the legal team this winter. With several years' experience working for California judges, she brings her "behind the bench" perspective to our litigation. A native Texan, she is a recent addition to the Eugene community, and looks forward to exploring — and helping to protect — all the wildness that surrounds her new home in the beautiful land of Cascadia!
Parker Jones (2018)
Parker was born and raised in Nashville,TN. As a child, Parker spent most of his time on his grandparents' farm or in the Harpeth River fishing. A summer-long camping trip after eighth grade led Parker out West for the first time where National Parks, such Glacier and Rocky Mountain, left a lasting impression. After receiving a B.S. in Environmental and Soil Science from the University of Tennessee, Parker finally made the move west and now calls Oregon home. He is currently in his third year at the University of Oregon School of Law and plans to take the Oregon bar in July.
Luke Mobley (2017)
Luke was born and raised in San Francisco, California. He is currently studying Environmental Studies at Yale University's undergraduate program. He's spent most of his summers as a kid enjoying the coastal forests of Oregon with his family and the fish and surf have been drawing him back ever since. Luke loves to spend his time camping along the west coast's rugged coastline and is an avid fly fisherman, surfer, adventurer and photographer. After graduation, he hopes to move into Environmental non-profit work in the PNW.
Kristen Sabo (2017)
Kristy was raised in Falmouth, Maine before making her way south to study comparative health and environmental policy and sustainability at UNC- Chapel Hill. After graduation, she bounced around the country and South America, working a number of jobs from advertising to a permaculture farm-hand. She then settled down in Eugene, Oregon to study law, with a focus on food sovereignty and water rights. Oregon's forests and trails have helped expand her interests to endangered species and protected wild spaces, and she enjoys spending the rainy winters outside in this greenery with her amazing adventure dog Leon.
Corinne Milinovich (2017)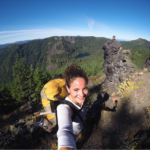 Corinne was born and raised in Seattle, Washington. She graduated from University of San Francisco with a B.A. in Environmental Studies. After graduation, she got a job working for the USFS as a wildlife technician specializing in northern spotted owl surveys on the Willamette National Forest and Mt. Hood National Forest. Corrinne's experience with endangered and threatened species led her to the University of Oregon School of Law where she is currently working towards her J.D. She enjoys biking on the Row River Rail Trail and hiking in the Pacific Northwest.
Brodia Minter (2016)
Brodia was born and raised in urban New England. She fell in love with the many shades of green in Oregon's forests and rivers upon her first visit west. One month later, she enrolled in law school and now is in her last semester at Willamette University College of Law and is planning on taking the bar this July. She loves to exhaust herself on long hikes, listen to the silver snags sing, and boogie-down to live music.
Kat Fiedler (2016)
Kat was born and raised in California, but now calls the PNW home. She was quickly enchanted by the rich, misty forests of Oregon while attending Lewis & Clark College and working on environmental and community issues throughout the region. She is currently strudying at the Elisabeth Haub School of Law at Pace University and the Yale School of Forestry and Environmental Studies, where she is focusing on wildland and wildlife preservation. Kat can usually be found wandering through the woods with her dog, Ronnie.
Credit: Photography of CW Staff and Kat Fiedler courtesy of Wendy Gregory Photography.