By Bob Ferris
"…the more ignorant we become the less value we set on science, & the less inclination we shall have to seek it." Thomas Jefferson May, 1795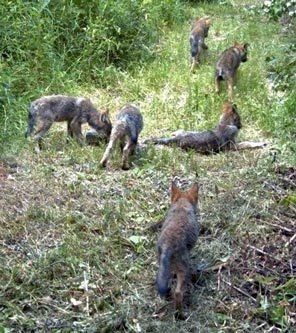 I remember a time in the late 1990s when I was interviewed by a writer for the New York Times. We had a long conversation about lynx restoration in Colorado and whether or not it would work or was worthwhile. At the end of the conversation he asked me where I got my PhD. I told him that I did not finish my PhD program and his response was that the New York Times only quoted PhD-level scientists on technical matters.
We continued to talk some about my education, experience and standing in the conservation community. We discussed some of my research efforts as well as restoration projects that I had worked on for wolves, swift foxes, prairie dogs and trumpeter swans. In the end, he included me in the article, but I had to work for it and prove that I belonged.
Flash forward to present times and we see
ABC
and
NBC
putting forth pieces on the manufactured wolf controversy in eastern Washington and the predator control paradox offered up by Dr. Rob Wielgus' work. Both these pieces prominently feature quotes by folks who lack relevant education, experience and standing to qualify as "expert" voices in complicated, science-based debates. Unfortunately, these two media networks are certainly not alone in their current use of the non-experts—often with huge and glaring conflicts—to counter the statements of scientists working in a broad range of areas from wolf recovery and climate change to vaccine safety and water pollution.
Certainly comments coming out of these non-experts are entertaining and provide a countering view on these issues, but at some point we have to ask ourselves whether news is really supposed to be entertaining or is it meant to inform a citizenry trying to make tough decisions and support public policies that lead us forward towards a better future or past towards failed and destructive modes of existence.
Wolves are a pretty good piece of societal litmus paper in this regard. Understanding the function and value of wolves takes a certain level of intellectual curiosity. I remember being both blown away and intrigued early on in my study of ecology by the concept of niches—the often subtle ecological positioning and separation of roles of organisms—being defined as hyper-volumes. These hyper-volumes are basically abstract representations of all the various biotic and abiotic factors that influence a particular species.
Why "hyper-volumes?" When we talk about dimensions we tend to talk about length (x), width (y) and depth (z) as defining volume. Hyper-volumes are n-dimensional so instead of just having three axes (plural of axis) they could have a nearly infinite number of axes or dimensions. That means that required space, time, moisture, feed, intra and interspecies competition, vegetative cover, weather, and thousands of other factors that define their place in the grand ecological scheme could all be used as axes or dimensions to describe their niche. And a good number of these dimensions interact so if one or a group of elements changes then so do others. In short it is both complicated and dynamic at the same time.
The "n" in this is unknown as we do not know with certitude all that influences a particular critter or plant. We do know that the number is large so if you are only looking at those dimensions associated with predator-prey relationships or even just the disease transmission elements, you are clearly missing most of the picture and are basing decisions on a myopic perspective. Where the litmus test comes in here is how you feel about the above information. If it stimulates and excites you and serves as a catalyst for thinking—even if you do not completely understand it—then that is great and we have hope for the future and for a return to American exceptionalism.
"Being ignorant is not so much a shame, as being unwilling to learn." Benjamin Franklin
If, however, you see it as more scientific mishmash because you already know what you know and you see no problem with non-experts sharing "opinions" on highly technical matters in a "he said-she said" format with PhD level scientists (or others with grounding and experience), then you are essentially the anchor dragging us down the slippery slope of mediocrity. If you think that I overstate this then please give me examples of economic or intellectual advances that were led by people with stifled curiosity and closed minds. These traits lead to acrimonious and anonymous electronic comments but not to progress, innovation and prosperity.
The anti-wolf rhetoric, rumor spreading, and fear-driven messaging coming out of eastern Washington and Idaho is distressing not only in regards to the wolf but because it also represents the worst America has to offer as well as our bleak and getting bleaker prospects. That we allow it to happen and that it is enabled by any institution in this country is the wart on the nose that tells of deeper, more profound health problems. I am encouraged that there are those who speak up in the face of this juggernaut of witlessness (
1
,
2
,
3
), but others need to speak up on this matter as well as on other issues like climate change.
Our current conservation peril—represented by these anti-scientific postures and our in-coming Congress—like the above referenced wart is only a symptom of larger problems. I cannot help but think that if we make a concerted effort in our own actions and rhetoric to call out those who ignore or degrade science and intellectual curiosity that we might be taking steps to heal and enrich our country as well. These are some things to think about during this holiday season and as we ready ourselves for the legislative challenges to come—we do have a choice and we should exercise it.