The Olympian
September 16, 2014
The state Department of Fish and Wildlife has mismanaged another conflict between an Eastern Washington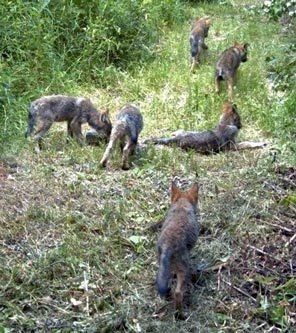 rancher and an important wolf pack. This time the department accidently killed the breeding alpha female of the Huckleberry pack, one of the state's most stable and prolific packs. Gray wolves are an endangered species in Washington.
This is a catastrophic mistake that will likely lead to more conflict between the pack and livestock. The loss of a breeding adult in a pack is well-known to wildlife experts to cause chaos within the pack and unpredictable future behavior.
But the department's mishandling didn't end there. The agency knew the rancher had refused conflict avoidance resources from the DFW and Washington State University and proceeded to put 1,800 sheep in the wolf pack's territory in difficult terrain without state-advised deterrents in place and protected by only a single herder and four dogs.
State wildlife officials surely knew this was a recipe for disaster.
When dead sheep started appearing on Department of Natural Resources-owned land, DFW should have been prepared to take quick and effective nonlethal deterrent action. It was not, and instead issued a secret kill order without notifying members of the Washington Wolf Advisory group in advance.
The DFW sharpshooter, working from a helicopter, was authorized to kill four of this year's pups. But he mistakenly killed the pack's alpha female.
Diane Gallegos, executive director of Wolfhaven International, located in Thurston County, said the conservation community is unanimous that the DFW and the rancher didn't follow the state wolf plan and that the DFW shouldn't have issued a kill order.
"This is an endangered species, and it is unconscionable that they accidently killed the breeding female of an endangered species," Gallegos said. We agree.
In 2012, the DFW killed the entire Wedge Pack, even though it had failed to effectively implement the non-lethal measures required by the state's wolf conservation management plan.
When ranchers engage in cooperative agreements with DFW, the state saves money, ranchers protect their livestock and wolves survive on other food sources.
Ranchers can also call on nonprofits, such as Conservation Northwest, to reduce conflicts between wolves and livestock. Conservation Northwest is using private funds and staff to train and provide range riders to oversee livestock sharing range with wolves. They are currently engaged in five separate projects, and in three seasons have not lost any livestock to wolves.
After the Huckleberry blunder, some of the most passionate gray wolf advocates are questioning whether DFW has a tendency to favor the interests of livestock operators. Clearly, the agency should be doing more to protect an endangered species.
Hundreds of thousands of gray wolves once roamed the West. When their natural food sources dwindled after human settlements, they sometimes turned to livestock earning the ire of pioneers. By the middle of the last century, most wolves had been killed off.
Today, thanks to protected status, wolves are making a comeback. They are a natural resource that belongs to the people of this state.
Gov. Jay Inslee should order a review of the department's wolf plan management, and state lawmakers must legislate a requirement that ranchers engage in good-faith cooperative agreements with the state Department of Fish and Wildlife.
###