Capital Bureau by Hillary Borrud
May 31, 2015
SALEM — Environmental groups that pushed for legislation to protect Oregon's Elliott State Forest from commercial logging had little success in Salem this year.
A bill that would have established a system to protect state trust land such as the Elliott State Forest, House Bill 3474, died in committee earlier this year. Now, conservationists are worried about a different bill that would make it easier for the state to sell land in the forest, which is near the southwest Oregon coast. House Bill 3533 would allow Oregon to sell state forest land, if the State Land Board — composed of the governor, secretary of state and state treasurer — passes a resolution to do so.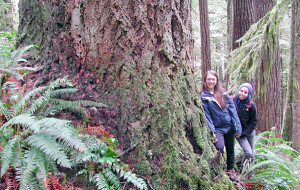 "The last thing Oregonians want to see is a privatization of the Elliot, … particularly areas that are treasured for hunting, fishing, back country excursions and so forth," said Josh Laughlin, interim executive director of Cascadia Wildlands.
Oregon law prohibits the sale of state forest land that was transferred from the U.S. Forest Service since 1913, which covers the Elliott State Forest. But the State Land Board says it has authority under the state constitution to sell the land, trumping statute.
The state lost $3 million on the forest in fiscal year 2013 and nearly $392,000 in 2014, because management costs exceeded revenue. That prompted Oregon to auction off three parcels of land in the forest in 2014, before the State Land Board decided to halt any additional auctions.
Environmental groups are lobbying lawmakers to oppose the bill, and Laughlin said there is also a chance the bill could be amended to allow for sale of the Elliott State Forest only if the sale maintains public access.
Julie Curtis, a spokeswoman for the Department of State Lands, said the goal of the bill is to clarify the land board's constitutional and fiduciary responsibility to generate revenue from state lands to fund public schools.
"What this bill would do is really eliminate lawsuits and expense related to lawsuits if the land board were to get sued for exchanging or selling or trading lands within the Elliott, whether it was to a timber company or to an environmental group," Curtis said.
The State Land Board is expected to discuss the Elliott State Forest at its June 9 meeting in Salem, where Department of State Lands employees will also present information about proposals from groups interested in managing or purchasing the forest. The agency issued a request for information earlier this year, so the board could learn more about potential options for the future of the forest. Curtis said the agency received five proposals, and there is not currently any deadline for the board to decide what to do with the Elliott State Forest.
(Photo of community members in the Elliott State Forest by J. Laughlin)