By Bob Ferris
What questions? For instance, we often characterize OR-7 as a wanderer, but what about Wanda? Where did she come from? The likely options are Idaho, northeastern Oregon and the Northern Cascades—either from the Rockies or the coastal genetic units. Any of these options are good as they show that OR-7 is not an anomaly and that our work to protect these important corridors yields results.
As mentioned in the above CBC piece, her origins could be determined by genetic markers found in her scat. I have to admit that part of me hopes that she came to the southern Cascades from some direct pathway originating in British Columbia or was the offspring of wolves that had migrated down from BC. It would be nice to see a demonstration of how this mixing zone we have been
speculating about works or does not work
.
Also given what we are learning about the importance of maintaining social structure in packs in reducing human/wolf conflicts, we should be glad that this pack—if it is to be—will be led by two wolves that have histories of staying out of trouble with livestock. Perhaps also we can learn lessons from Oregon's good example and Idaho's bad one in terms of proactive livestock measures and enlightened wolf management leading to positive results versus a war on wolves leading to bad results for wolves and ranchers.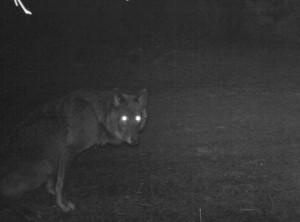 The simple presence of this squatting, narrow-nosed wolf should radically change agency thinking in California. The California Fish and Wildlife Department and the California Fish and Game Commission's list or not-to-list fence-sitting has to end because there is a huge difference between the novelty that was the lone wolf Journey (OR-7) and the reality that we might have a pack whose alpha male claims dual state residency in Oregon and California.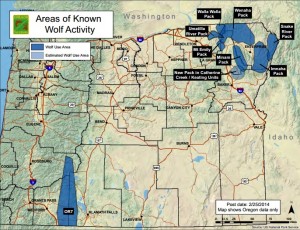 Hopefully the linear, north-south configuration of OR-7s well documented home range, which likely holds clues for future use as well as future dispersal of any young wolves resulting from this pairing or others will be obvious to decision-makers in California. If it is not I can almost picture a future cartoon with images of Journey and Wanda's offspring flipping coins in a few years with Oregon on one side and California on the other. Please join us in urging that California officials get off the dime (i.e., stop dancing around) and list this species under the California Endangered Species Act. Even if you do not live in California, please speak up now!