By Bob Ferris
People who know me understand that I am not a wolf fan
per se
. I haven't always read the latest book on a particular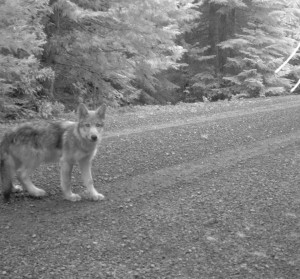 wolf and my house is not festooned with paintings and pictures of wolves. I have worked on wolf recovery for more than 20 years, but wolves—in my mind—are simply one, albeit important, tool in our work to restore a semblance of wildness to our damaged landscapes. And in North America, wolves thriving is a physical manifestation of our success.
Yes wolves are remarkable and fascinating animals. And with each passing field season we find out more and more about their true roles as keystone predators and how wrong we were when we looked at these critters as valueless varmints and pests. It was wrong for us to nearly wipe them out in the United States. It is wrong for some to still continue this war. And it is right—in an Aldo Leopold sense—for us to want to restore wolves when and where we can.
I tend in all this not to anthropomorphize wolves. Certainly I do compare humans and wolves on occasion to talk about a behavior such as dispersal and why wolf control is a bad idea in terms of letting teenagers loose on the landscape. I also tend to quietly cringe a little when folks treat wolves like long lost friends. All this said, I have named two iconic wolves during my career for good reasons.
The first was during a creative meeting at Defenders of Wildlife in Washington DC when the first wolves were denning after their reintroduction two decades ago and the first litter of pups was thought to have been born in Yellowstone. I sat in on these meetings to make sure the fundraisers and marketers didn't go too far afield of the science. So they were likely surprised when I said: Why don't we call the hypothetical first pup born in Yellowstone "Promise?"
The idea was adopted and for the next four or five years, folks all over the US were treated to stories in direct mail pieces about this wolf known as Promise. And I lived—at times—to regret my rash outburst. I would crisscross the country talking about wolves and invariably someone would ask: How is Promise doing? Early on I would try to explain that Promise was not really a wolf per se but rather the idea of reproducing wolves and the promise that happy happenstance offered ecologically. I was naming a process as much as an individual. But soon I just gave up and for a while I just said Promise was doing fine. And then Promise had pups. I took a break from wolves before I would have been forced to say that Promise was probably dead. Death being just as much a part of nature as life.
With the second wolf I named,
Wandering Wanda
, I felt more of need to name a specific wolf. This was in part because I felt for her not having a name when her mate clearly did. I kept having to talk about this internationally known couple as Journey or OR-7 and the female wolf without a collar who came from we-do-not-know-where. She needed a name that reflected her story and once I had the wandering part—for her travels are equally as remarkable as her mate's—the Wanda tag just simply fell into place. And Wandering Wanda, wolf of the West was born.
I get some sideways glances from those who know me and wish I'd kept to my practice of sticking to the science. I'll live with that. I have never pretended to be perfect, consistent or predictable. And I'll have to admit that I would love to name just one more wolf. That wolf is a little like Promise in that it will likely not be a specific wolf, but rather a pup born in darkness and likely not seen. This pup is little like the pre-ordered novels you see on Amazon.com and I would like to call it "Fulfillment."
In my mind, Fulfillment should be the name of the first wolf pup born in California and I have been thinking about this pup for more than 20 years. Fulfillment was in the back of my mind when we were trying to maximize the number of wolves brought down from Canada in 1996 so we would have the critical mass of animals needed for a successful reintroduction. Fulfillment was also clearly on my mind when I was speculating about wolves coming back to
California
in 1999. And he/she was one of the reasons that I was quick to argue that B-45 should be allowed to stay in Oregon in an opinion piece in the Oregonian and when
Todd Wilkinson
(see also
Two Talking Wolves Tour
) wrote about the situation at the same time.
Fulfillment is a little of a full circle name for me too. It harkens back to the purpose-loaded handles of my Puritan ancestors like Temperance, Constance and Supply handed out during those times when wolves were first persecuted in the newly formed colonies and the first game law in the colonies was a bounty on wolves. Fulfillment would demonstrate how far we have come from those dark and somber times (not that all the
darkness is gone
).
It also puts a punctuation point on recovery under the federal Endangered Species Act—not the way the
US Fish and Wildlife Service
is presently trying to interpret it but how it was originally envisioned and how it should really be in a society that embraces science and sincerely wants to reclaim wildness where we still can. In this last sense we who "like it wild" all want fulfillment and I hope that we will all continue to work together to achieve that important goal. We need Fulfillment.
P.S. We need "Satifaction" in the Southern Rockies too, in case some was thinking that I had forgotten.