Watch below: "Groundtruthing the Tongass"
The moment has arrived for the era of clearcutting old-growth forests for short-term gain to end. On the Tongass National Forest, the old-growth industry is gasping its last breaths. A few holdouts are trying to keep the past alive by propping up the industry with massive and expensive timber sales. Cascadia is on the front lines blocking this expansion.
Our 2018 video production, Groundtruthing the Tongass, portrays the unvarnished reality of old-growth clearcutting. The video follows Cascadia staff and allies to proposed Wrangell Island Project, and the ongoing Big Thorne Timber Sale on Prince of Wales Island.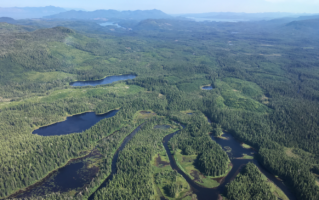 Working in concert with organizations like the CRAG Law Center and the Greater Southeast Alaska Conservation Council (GSACC), Cascadia relentlessly monitors and challenges old-growth timber sales on the Tongass. We are especially concerned for deer and wolf, as the loss of winter habitat from historic logging accumulates into a bad situation for subsistence hunters.
Cascadia Wildlands leads Grountruthing the Tongass expedition