The Native Village of Eyak is currently seeking a Clean Water Act
permit from the Army Corps of Engineers
to build a 4.5-mile road and deepwater port at Shepard Point, just north of Cordova in Orca Inlet, Prince William Sound,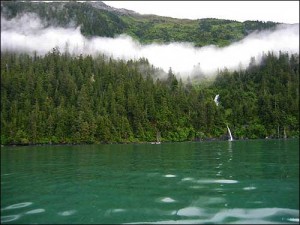 Alaska.
Ostensibly, the proposal is for a new oil spill response facility. From a distance, it sounds great. But with a closer look and some perspective, in emerges as the #1 threat to Prince William Sound, the Copper River Delta, and Cordova.
The project is funded is large part by the 1992 criminal settlement of the Exxon Valdez case, which allocated money to Cordova to enhance its spill response capability. Twenty years later, Cordova has still failed to build its facility because a small group of powerful people insist on using that money to serve their own industrial development goals.
The project is expensive, dangerous and destructive. It would require at least $30 million in additional public money, which currently doesn't exist.
Located on private land owned by Eyak and Chugach Corporations, the Shepard Point road has been a dream of developers associated with those corporations for decades. Justifications for the road and port have shifted through the years between access for clearcuts, cruise ships, coal exports from the Copper River Delta, and, now, oil spill response.
The problem is, the proposal does almost nothing to improve oil spill response. Spill response here doesn't require a deepwater port. There are no deep draft spill response vessels involved (they are almost all fishing boats). At the same time, the proposal would create a critical missing link for several horrific industrial development schemes: cruise ships, the Carbon Mountain coal mine, and more clearcuts on private corporation land.
Worse, the deepwater port would be privately owned and controlled by the Native Village of Eyak (whose leaders also are shareholders and directors in the for-profit Eyak & Chugach Corporations). Difficult decisions about industrial development would be taken out of the public domain, and away from the purview of environmental laws.
Cascadia is working with our close partners at the Eyak Preservation Council to compromise on a location that actually would help oil spill response, without setting the stage for a generation of conflict over industrial development. We hope to achieve a goal we all share, improved oil spill response, rather than allowing that noble goal to be hostage to endless battles over industrial extraction.
The comment period closed on January 15, 2014. Thank you to all who commented
and signed the petition! Public comments received by the Corps overwhelmingly oppose
the Shepard Point
boondoggle, and support
a new facility at
a less environmentally damaging location along the existing road system
. The Corps has not yet made a decision, but other agencies' comments mirror our concerns. Your comments are making a difference!
The Corps and the applicant are currently considering comments, and a decision is expected sometime this year. In the meantime, Cascadia and our local partners at Eyak Preservation Council continue building support and laying groundwork to actually build one of the alternatives.
See 2007 news piece of same issue here