By Bob Ferris
So much of what we do to keep things wild involves sound—embracing the good ones versus fighting the offensive.  For instance, we want
wolves howling
in the wilderness but don't want to hear the constant lawnmower-motor burping of
suction dredge engines
in our wild spaces.
Similarly, we much prefer to listen to the
wind whistling through tall trees
 in the Elliott State Forest and the gentle "keer"of marbled murrelets to the rip-snort of a chainsaw.  The same is true for rushing waters and waves as opposed to off-highway vehicles and jet boats.
We all have similar catalogues of good and bad sounds.  What we hear and experience through our auditory senses seems almost as important as what we harvest in wilderness through our eyes, nose, feet and fingers.
This importance of good sounds is probably why we at Cascadia Wildlands convene so many events over and around music.  Good sounds bring us together.  Take
Pints Gone Wild
hosted by Ninkasi Brewery on the first Monday of each month.  That gathering is all about good sounds—old favorites, new artists and those making joyful or innovative noise for the wildlands we love.  All of them generously donating their time to help us keep it wild.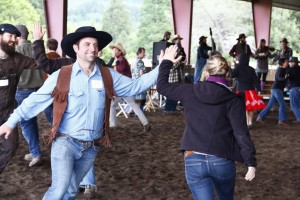 But it does not end there because we also have special events such as the upcoming one at
Luckey's Club on April 12
and our barn-burner (figuratively not literally)
Hoedown for Ancient Forests on May 10th
.
And it is not just about our own music events.  We will also be at the Oregon Country Fair and String Summit again this summer.  So please come to these events and tell your friends. There is really no rule out there that says we cannot have major amounts of fun while taking material actions to keep it wild.