By Bob Ferris
I watched a little bit of football this past week. It helps take my mind off a
number of issues
we are dealing with and gives me a little emotional respite. This is particularly beneficial when you are in the Pacific Northwest and the two
games you watch involve the Seattle Sea Hawks and the U of O Ducks.
In searching for game times and other issues I stumbled on to numerous videos about technical glitches in John Madden's new X-Box offering "Madden 15." Turns out a programmer made one of the linebackers 14 inches tall rather than the more realistic 6'2" tall. This led to a series of posts and video commentaries around the web about the tiny linebacker knocking over full-size players and even recovering a fumbled ball that was larger than him. This was all hilarious stuff for a time.
It got me thinking about Cascadia Wildlands and our size relative to our colleagues and also to those we oppose on a regularly basis. We are that tiny linebacker (only smaller) and yet we regularly prevail just like this out-of-scale video image does. I say smaller because the tiny linebacker is roughly one fifth the height of his co-players, while we are one hundredth the fiscal magnitude of a group like the Rocky Mountain Elk Foundation whose policies and actions allow it to freely draw from the wellspring of donations from exploitive corporations.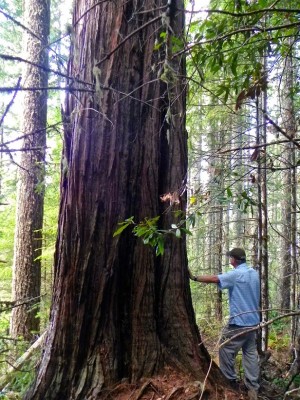 ​
Don't get me wrong, I like our size and it has many advantages. But the reason you do not get nearly constant electronic solicitations from us is because the person who would mostly likely write those is also working on critical program issues, is the webmaster, the head of personnel, the finance manager and the executive director all rolled into one.
Our tinier-than-the-tiny-linebacker-model is a great one and we are proud of our lean and mean reputation. But we also need public support and would encourage you make a donation to support our valuable work—particularly to our Mountain Rose Herbs matching gift campaign.
In this,
I would urge you to understand that while even a large donation to larger organization makes little difference to them financially—even a small gift help us materially. Please share this around and encourage others to help us achieve a lot with very,very little.