By Bob Ferris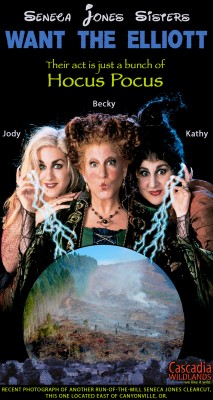 "Kathy Jones, Seneca Jones' co-owner, said her company didn't bid on the land because her mill needs lumber but because she and her two sisters refused to be bullied by "eco-radical" environmental groups and believed no other timber companies made an offer."
Oregonian April 2, 2014
We do not traditionally respond well to ironic comments made by timber industry owners. That is why we thought that we would respond comically to the Seneca Jones sisters calling us and others essentially
"environmental bullies"
when they buy timber that they claim that they do not need, simply to make a point. Ridiculous actions deserve ridiculous responses.
The only point they have made is that they have enough money to spend it recklessly. So we thought that we would respond with humor appropriate with their attempt to buy bits of the Elliott at pennies on our dollars. (Please click on "movie poster" to the right to get the full effect)
Offensive? Maybe. But we find it offensive for a timber company to ask for more discounted public resources so that they can have additional wherewithal to buy timber they do not need.
Perhaps—judging from the above quote—the sisters think that they have truly enchanted us. That seems like the only logical explanation when you have the plane-flying, horseback-riding, SCUBA-diving sisters calling people living on the economic edge "elitists." And as to being sent from Washington DC, my sense is that these three forget how much time they and their lobbyists spend in our nation's capital and hope that we do also.
The enchantment theory might also explain why the sisters might think that their "vision" for the Elliott expressed so well by this photograph at left of a Seneca Jones clearcut at dawn being sprayed with herbicides by helicopter matches Oregonian's vision for our precious public lands. And for all those out there touting the wildlife habitat benefits of clearcutting, please show me the elk and deer habitat created here or in the photograph at right of a Seneca clearcut and landslide. This is not what we need or want in the Elliott.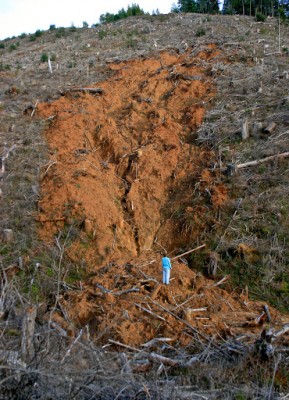 And for those who think we are over stating our case, the above quote from Seneca Jones sister Kathy speaks volumes about their scorched earth policy.
Join us and
help support our efforts
to find a conservation solution that helps all of us and protects some of the last and largest stands of mature, native forest in coastal Oregon.