Thank you to everyone who came out to the 2016 Wonderland Auction!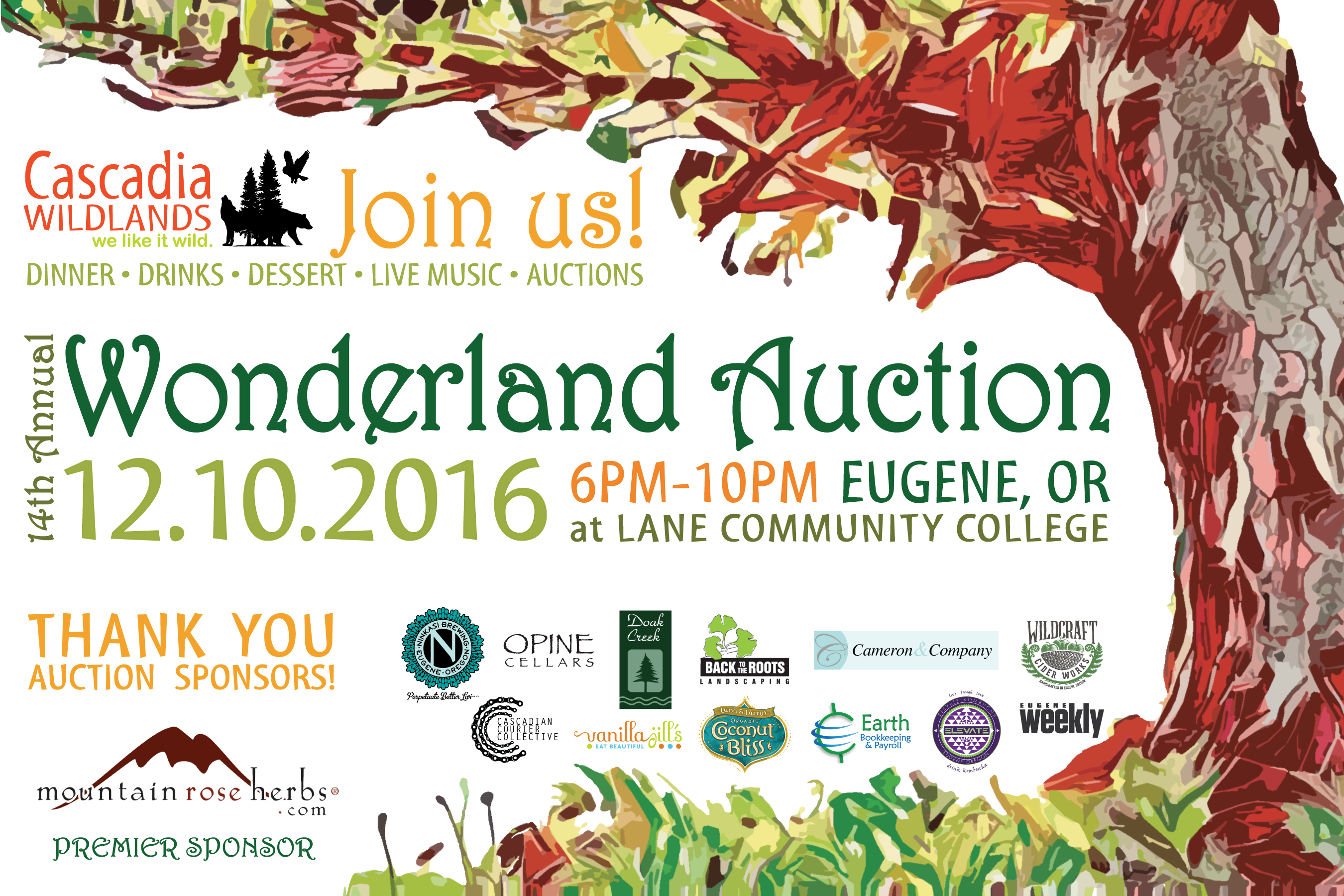 Thank you for joining Cascadia Wildlands, our premier sponsor Mountain Rose Herbs, and other community supporters for an evening of fun, friends, and philanthropy that will provide essential underwriting for our critical conservation work during the 2017 year.

This not-to-be-missed event includes a sensational gourmet dinner by renowned Lane Community College catering, local libations as well as dessert, and live music by the Red Pants Trio.
Live and silent auctions will feature unforgettable adventures, thrilling getaways, outdoor gear, gastronomic fineries from throughout the West, and much more! Check out the packages currently lined up for this year's live auction.
The Wonderland Auction is Cascadia Wildlands' largest fundraiser of the year, with 300+ people in attendance. Thanks to generous support by individuals and businesses, every dollar we raise at the event directly contributes to Cascadia Wildlands' work to protect and restore the wildlife and wildlands of the Cascadia Bioregion. By supporting this fundraiser, you will help sustain our fight to stand up for Cascadia's clean water, cherished rainforests, and imperiled species. With your help, we can keep it wild!
Space is limited, so purchase your tickets soon. $50 in advance or $60 at the door. (Kids under 12 free.) This event fills up quickly, don't lose out on prime seating — reserve a table for 8 people today! Advance ticket/table sales end at 5 pm (Pacific) on Thursday, December 8. Your reserved table purchase includes 8 tickets to the Auction and 2 bottles of fine Opine Cellars wine ready for you to enjoy!
Venue Location and Address:
The Center for Meeting and Learning (LCC Main Campus, Bldg 19)
4000 E 30th Avenue Eugene, Oregon 97405 click to view map
Cascadia Wildands Staff at the 2015 Wonderland Auction (Gabe Scott not pictured).
Are my purchases at the Auction tax-deductible because you are a non-profit?
We are a 501(c)(3) organization, and as such, your general donations are most likely tax-deductible. However, in order for your Auction purchase to count as a donation, your winning purchase price must be greater than the listed value of the item — the difference of which is what is considered the tax-deductible amount. Bids placed during the Paddle Raise portion of the evening are fully tax-deductible because you receive no goods or services in exchange for your donation. You can start the conversation with you tax advisor by providing them with our EIN 93-1293019. Thank you for supporting Cascadia Wildlands!
(Photos of the 2015 Wonderland Auction by Wendy Gregory Photography.)