Excerpt from: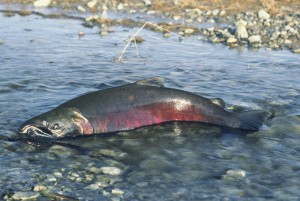 Sucking Up Riverbeds–Is suction dredging ruining your favorite trout stream?
By Ted Williams Fly Rod and Reel Magazine Spring 2013
"Part of the [suction dredgers'] pitch seems to be that mucking up rivers flowing through public lands is an honest-to-goodness, Don't-Tread-On-Me, all-American right," submits Cascadia Wildlands director Bob Ferris. "Poppycock . . . . Suction dredging is not a 'right' nor is mucking up the water for the rest of us—particularly in streams and rivers that run though public lands or hold imperiled species such as coho and Chinook salmon or bull trout."
Feeding the flow of what Ferris calls "poppycock" are retired EPA scientists Joe Greene and Claudia Wise, both officers in the mining support group Millennium Diggers and both self-proclaimed experts on the effects of suction dredging. According to Ferris, they don't initially disclose their passion for dredging or their mining affiliations. He chides the more loquacious Greene for quoting "laughable" conclusions from a nearly 75-year-old water-chemistry study and making public statements that are "deceptive, unprofessional in nature, and politically and personally motivated."
Nothing I have read by Greene and Wise has led me to disagree with Ferris's assessment of their credibility. Still, they were the spokespeople the dredgers turned to after the Karuk tribe filed a 2005 complaint in Superior Court of Alameda County against the California Department of Fish and Game, for allowing suction dredgers to damage the habitat of listed fish in the Klamath, Scott and Salmon rivers and specified tributaries.