By Lacey Jarrell
Klamath Falls Herald and News
September 6, 2014
The mysterious female wolf that mated with OR-7 is a confirmed descendant of Northwest wolves.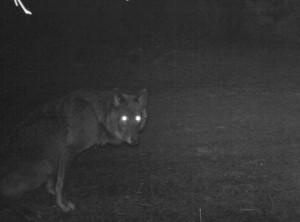 According to a press release, the Oregon Department of Fish and Wildlife has received the results of scat samples sent to the University of Idaho for analysis. The samples, collected in Southwest Oregon in May and July, identified OR-7's mate and two of the pair's pups as wolves.
************
Cascadia Wildlands Executive Director Bob Ferris dubbed OR-7's female companion "Wandering Wanda," or just Wanda for short, in a June blog post for his organization.
"We got tired of calling her the uncollared wolf that came from nowhere," Ferris said. "Wanda probably wandered as far as OR-7 and her story is probably just as remarkable as his."
Ferris said although Wanda is just a nickname, he believes it's a reasonable solution to talking about a well-known animal that doesn't have anything to call it by. ODFW spokeswoman Michelle Dennehy said biologists don't name wolves; however, as a function of being collared, wolves are given an identification, such as OR-7's. Dennehy said "OR" represents the state — Oregon — and "7" indicates he was the seventh wolf collared in Oregon.