By Bob Ferris
Last weekend I went "wolfy." Portland-based Artist
Vanessa Renwick
invited me to come to some wolf events and view her "Hunting Requires Optimism" installation at the Jordan Schnitzer Museum of Art here in Eugene. It was in bike riding distance so my wife and I ventured out in the drizzle. And we were glad we did.
Hunting Requires Optimism from Vanessa Renwick on Vimeo.
The evening began with a cruise through the "Hunting Requires Optimism" piece (see clip above on the evolution of the piece) which disturbed me at first as I entered into a room filled with avocado and harvest gold refrigerators and immediately thought of carbon footprints and energy efficiency. I got over that quickly as I realized they were not plugged in and I got into the theme of the work which was wolves and their hunting success which is on the low side versus ours via our "iceboxes" which is about as close to 100% as it can get.
As I travelled from fridge to fridge watching wonderful black and white film loops from film maker Bob Landis I remembered the first footage coming out of Yellowstone and watching the wolves in the Lamar Valley chase elk back and forth across a slope. Back and forth they went showing why wolves are different than many predators in that they are "coursing" predators that test the vigor of prey. It was almost a tedious process of watching the faster elk outpace the slower wolves in a seemingly unending "coyote and roadrunner" pattern until one of the elk developed a hitch in their giddy up and then you got it. You understood what made them different from other predators.
From this we went on to watch Deke Weaver do his mixed media show called Wolf. We sat next to Cristina Eisenberg which was a treat because we were about to talk about her new book
The Carnivore Way
, her upcoming interview of Bill McKibben and a little bit about the interesting and on-going debate regarding
trophic cascades
.
MAP 2014 WOLF bus/woods from Deke Weaver on Vimeo.
This presentation (see above footage to get a flavor of Deke and crew) was an abbreviated version of the barn and bus performances that he and his team performed in Illinois as part of his
unreliable bestiary
alphabetic journey through endangered species and habitats. He was amazing and I am always impressed by folks who can successfully navigate through complicated sequences involving video, props and messaging without missing a beat. I also appreciated the wry combination of science, voice and dance melded together in a bread-and-puppets-stumbles-into-Monty-Python sort of way. Hilariously insightful.
The wolf piece was also moving. As a scientist and longtime leader in the conservation field I have had to keep a tight rein on my emotions. I frequently am called names and threatened but through it I have had to remain calm and reasoned. The wolf piece made me realize for that moment how much I have repressed and how angry I was about the ignorance and injustice I had seen associated with the wolf. The old and comfortable mask came down quickly afterwards but it was good for me to know that this other set of feelings was still there as well.
After Deke's work we transitioned to Vanessa's seldom seen film and music collaboration "Hope and Prey" (click on "post" link above for 15 second of the experience hosted by Cinema Pacific) Unvoiced and surreal the piece takes you, again with the help of Bob Landis footage,to the reality of wolves, elk, ravens and at least one pesky bald eagle. We become absorbed in their world on three screens. It is like spending a day at work with the wolves along with all their trials and the ephemeral nature of their successes.
On Sunday I returned alone for a panel discussion involving Vanessa and Deke as well as two faculty members from the University of Oregon to talk about philosophy and art in association with the various pieces. Vanessa also screened some footage that Carter Niemeyer of
Wolfer
fame had shot during the 1994 capture of wolves that eventually went into Yellowstone and Central Idaho. It was good to see old friends from nearly 20 years ago like veterinarians Mark Johnson and Dave Hunter who taught me how to use tranquilizer darts in California as well as a host of wolf biologists such as Dave Mech, Joe Fontaine and Carter.
It was also interesting to see what changed and what remained the same from the 1994 captures which were all done by government employees or contractors and the 1996 efforts during the government shutdown that were a combination of government workers like Carter and Mech along with folks from NGOs like myself and Suzanne Stone.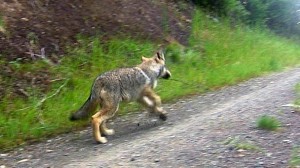 I hung out at the end for a while with Vanessa, Deke and his partner-in-crime and choreography Jennifer Allen who was also one of the lupine dancers in Wolf. We talked about wolves and people until the museum staff's non-verbal clues told us it was time to leave. Hopefully we will all have an opportunity to meet again and howl for wolves. If you get a chance to see any of Vanessa's or Deke's work, I would urge you to make the effort as it will be well worth your while.