June 1st marks my twentieth year as a professional advocate for wolf recovery and roughly thirty years as a professional wildlife biologist. This is not a big deal as nearly everyone eventually is somewhere for a long time, but it
does give me one very important advantage: Perspective. In other words, I know where we started and therefore understand where we are with wolves and why.
The experience had also yielded amazing memories from freezing in Fort Saint John, British Columbia (-45 degrees) during the second capture of wolves for Yellowstone and Idaho in 1996 and hearing the Crow and Sioux warriors (at left) singing the wolves back to their ancient lands in our first national park to speculating on when
wolves would get to California
and
celebrating the first wild wolf prints in my life time in both Oregon and California. All good and glorious memories.
That is not to say that all the memories are good. Certainly not. Getting grilled by ex-Senator Larry Craig and former Wyoming Senator Craig Thomas in a Senate sub-committee hearing on wolves was not as much fun as it could have been and watching this manufactured hysteria over wolves that is resulting in continued, unjustified killing of wolves is breaking my heart on multiple levels. And then there are the constant insults and the veiled and not so veiled death threats. But we did and are doing all that we can for the wolf and will continue those efforts whatever the outcome of this federal delisting exercise.
But one of my favorite sets of memories was sitting in my office and being a fly-on-the-wall over the last two years watching and listening to Nick, Josh and advisory board member and former staffer Dan Kruse work with our partners (Oregon Wild and Center for Biological Diversity), agencies and the opposition on crafting legislation and rules that have led to Oregon having the best wolf management approach in the lower 48 states (
see details on settlement here
).
This whole history—past and recent—is on my mind because this coming Saturday May 17, 2014 marks the third full year that Oregon Department of Fish and Wildlife (ODFW) has not killed a single wolf for livestock depredation. (It should be noted that the animals not killed include the previously condemned to die OR-4 who remains the alpha male of the Imnaha pack and is the father of OR-7 or Journey.) We are so proud of that.
So as we look at this
potentiality or eventuality of OR-7 having a mate and pups
in the southern Cascades of Oregon we have to understand that we would not be celebrating and anticipating this happy outcome if some dedicated and effective groups like Cascadia Wildlands had not stepped forward now and over the past decades since Aldo Leopold and others suggested the need to protect and restore wolves.
(Folks in the Eugene area will get a little bit of a chance to kick the tires on that plan when
ODFW's wolf guy Russ Morgan speaks on May 20, 2014
.)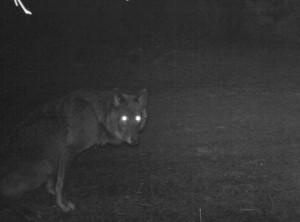 Whatever the results observed this June or the next, when biologists go to look for a den and pups in southern Cascadia's wild reaches, and see if a pairing between OR-7 (pictured above at right) and his "Wandering Wanda" (pictured at right) have produced pups, we know the work is not done. We still have to be vigilant in Oregon. We need to move the process forward in Washington State. We need to keep federal and get state endangered species protections in California. And we need to simultaneously maintain federal gray wolf protections in the West and continue our work to educate and
erase wolf myths and hatred wherever we find them
.
And to do all of this we need your continued support both as wolf activists and as engaged donors. Yes we have wolf all-stars on staff, but they are on staff because our donors keep them there. When you go looking for wolf heroes and the figurative grandparents of OR-7 and Wanda's offspring you might just being seeing one in the mirror. Please help us continue this work.