By Bob Ferris
I have been looking at the issue of lethal predator control for many, many years and the longer I look at it and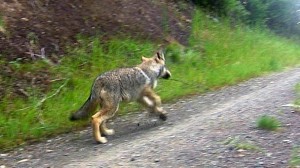 the more science I read and assimilate, the more convinced I become that lethal control of predators is more punitive than practical. It is an activity and a supporting attitude that simply does not wash in the light of what we know and have tested.
I know some will argue that lethal control is still needed for situations of chronic livestock depredation and where predators are dampening prey or endangered species recovery. But even in these instances our opting for trigger, trap or poison is really more about our inability to admit that we are often raising the wrong animals in the wrong way in the wrong places and also our reluctance to recalibrate our expectations in regards to our ability to harvest, destroy and neglect our natural resources at unsustainable levels without consequence.
Three wolf examples come to mind when I think of prime illustrations of the above: the Huckleberry pack control action, continual calls for wolf control in the Lolo National Forest to save elk and the killing of wolves in Alberta to save caribou.
With the Huckleberry incident in eastern Washington—which we have written about repeatedly (
1
,
2
,
3
)—you basically have too many of the wrong animal (i.e., sheep including rams) placed in poor habitat with little or no supervision near an area of known wolf activity. Certainly livestock losses are regrettable and we have sympathy for the rancher who has to move his or her animals to alternative pasture, but the question hovers: Was this choice of stocking levels, location and inattention to non-lethal alternatives prudent given the situation? One thing to think about in this context is the idea that anyone can leave roughly $180,000 worth of assets on any landscape without providing some measure of presence or protection from mishap. In any event, this set of circumstances seems to not be a compelling argument for lethal control of a species recently released from federal protection and still under Washington State protection.
The elk population decline in the Lolo has been offered up far too often as the poster child for the need for wolf control regardless of the fact that the decline started long before wolves came on the scene. And biologist after biologist has pointed to this decline being associated with habitat succession (i.e., open areas transitioning to brush land and then to forests). Certainly wolves are causing this decline to linger longer but at the end of the day this elk population is still habitat limited and will remain so as the availability of early seral habitat continues to decline. Elk are creatures of disturbance and when the logging is done or fires put out the ticking clock of transition from good elk habitat to bad starts. The State of Idaho is pursuing lethal control of wolves in this area but they are unlikely to get any awards for sound science or innovative management out of this endeavor (see
here
).
Woodland caribou in Alberta are in terrible shape and getting worse (
1
,
2
,
3
). The main reason for this decline is the explosion of tar sand development as well as tradition gas and oil development in the province. Yet when searching for solutions, the province did not look to restrict fossil fuel operations, set up refugia or restore habitat they felt the "logical" approach was to cull wolves. I suppose on some level this illogical of wolf culling is easily dwarfed when looking at the totality of this tar sands lunacy where wilderness is being sacrificed so we can accelerate climate change, ocean acidification and a host of other ills that compromise our ecological support systems.
Alberta's wolf cull strategy is not only wrong-headed but it may turn out to be an ironic choice as wolf biologist Robert Hayes reported in his excellent book
Wolves of the Yukon
that smaller packs had to kill more prey per capita because they lack the numbers to effectively protect their kills from crows, ravens and other scavengers. Hayes' observations are illustrative of the problem faced by lethal control proponents who only look at the obvious iceberg tip of predator-prey relationships and do not see the more important aspects below the surface that are not seen by the casual observer.
The latest nail in the coffin of the lethal control illogic is
Rob Wielgus'
recent findings that culling wolves likely does more harm than good. This is solid and well-reviewed work, but it is by no means unique in sending the message that lethal control is generally a flawed approach. In 2012, for instance, the American Society of Mammalogists issued a
strong letter
to USDA Animal and Plant Health Inspection Service—where USDA Wildlife Services is housed or hidden—heavily criticizing the program's overdependence on and use of lethal control. And investigative journalist Tom Knudson of the Sacramento Bee wrote an excellent set of articles examining problems with USDA Wildlife Services as well as lethal control in 2012 (
1
,
2
,
3
,).
At this point there are likely some who are asking: If science has shown that lethal control of predators—particularly via random culling programs—is generally ineffective or often deleterious then why does it continue? The answer to this question is that livestock producers, energy developers, and timber interests want access to natural resources on public lands and the presence of predators—particularly legally protected predators—often inhibits their ability to fully exploit and derive maximum benefit from these public lands. Yes there are groups that also support predator control, but if you scratch the surface of most of the groups with anti-wolf or anti-predator leanings you do not have to look too hard to also find connections between those groups and these industries either through funding, governance or association (see
here
).
Moreover, for wildlife managers, scientists and politicians, there is real peril in questioning the lethal control model. Both Rod Sando (
1
) in Idaho and Ken Mayer in Nevada (
1
,
2
) lost their jobs as directors of their state wildlife agencies, in part, because they took a principled and scientifically defensible position on the lethal control of predators. Likewise Dr. Wielgus' work—before it was even completed—was attacked and his objectivity questioned by the livestock producers' front group the Science First Coalition (which has since taken down their website). And Congressman Peter DeFazio who has long championed reform of
Wildlife Services
and
wolf recovery
as well as opposing
predator derbies
has taken considerable lumps from the above crowd. Being principled is a perilous course and frequently comes at a price.
I met with the leadership of Wildlife Services in DC roughly 20 years ago armed with a stack of literature that questioned the efficacy of lethal control actions particularly as they applied to coyotes and we also talked some about wolves. The agency and the approach has changed some since then because of public pressure, legal actions and congressional attention, but only cosmetically such as not stenciling an airplane with a wolf silhouette each time you kill one. Lethal control continues not because there is a lack of science or inadequate evidence of problems but because the myths and fear continue to be promulgated by the same interests and industries (see above).
As you enter the holiday season and think about this coming year and those in the future, please take some time to think about how you can help all of us turn the tide on this monumental effort to bring facts and science to wildlife management and public perceptions—particularly in rural areas. We need to break the strangle-hold and undue influence these industries have on our wildlife agencies, public lands policy and the minds of our children. Our future and the future of what we hold dear depends on it, so please support groups that work in this area, vote for candidates who embrace science, and educate where you can with fact-based and scientifically defensible arguments.