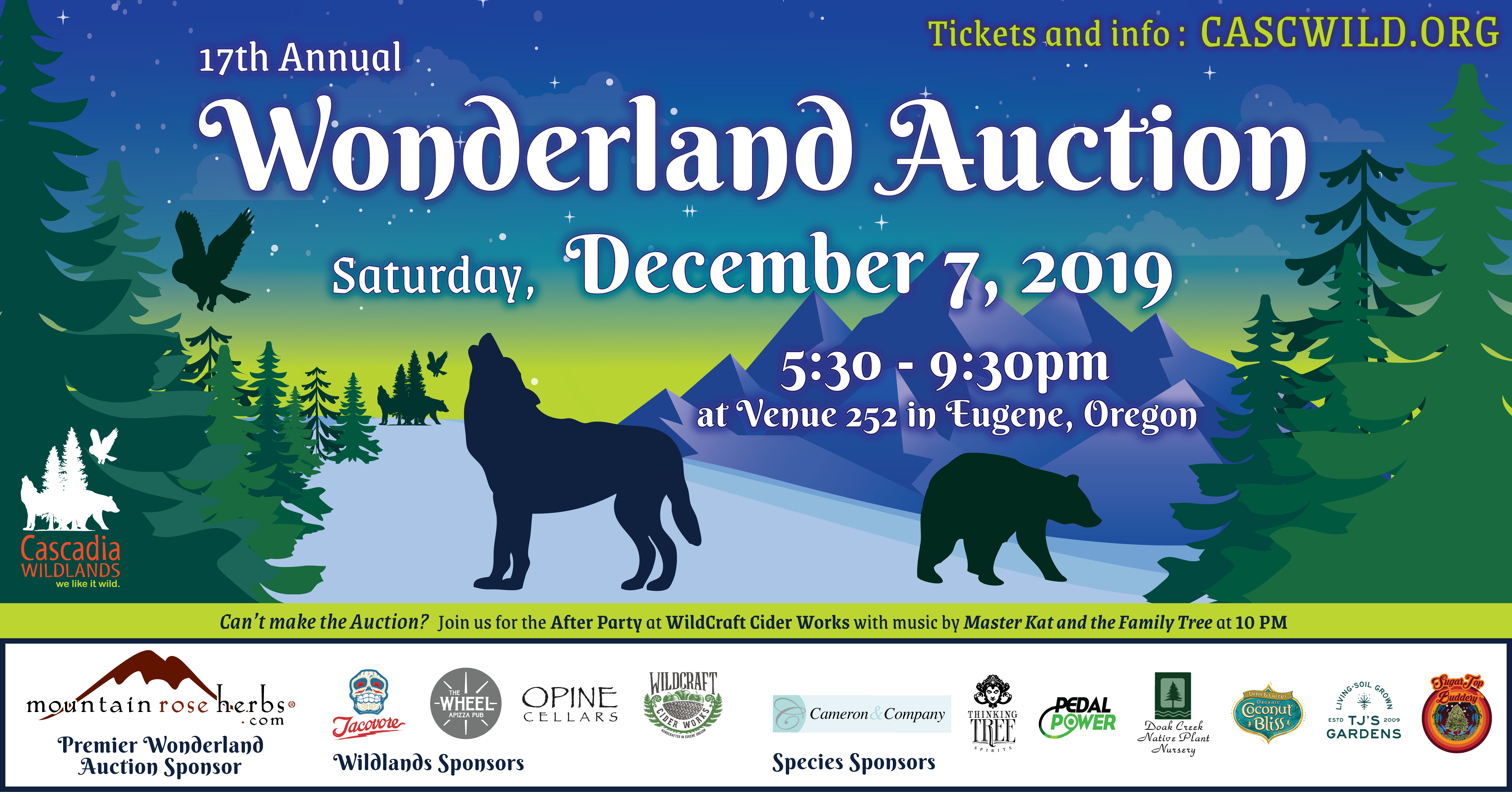 The live auction is the focal point of the annual Wonderland Auction, and it is where a significant portion of our operating budget is raised each year. It is an opportunity for businesses and individuals to demonstrate their support of Cascadia Wildlands by donating big-ticket, sought-after items. Excitement generated by the live auction, run by auctioneer extraordinaire Tim Ream, compels attendees to raise their paddles and cheer on others as these coveted packages are bid on. We typically have 15 live auction items to complement nearly 80-100 silent auction packages at the event. Thanks for taking a peek, and get ready to win these packages that will change your life! This live auction preview will continue to grow, so please check back in soon!
Secure your tickets or a reserved table for 8 (which includes two bottles of fine Opine Cellars wine at your table).
1. Gourmet Greek Dinner and Fine Opine Cellars Wine for Eight in the Comfort of Your Own Home

Who needs a trip to the Mediterranean islands when Chef Erin Ely prepares a gourmet Greek dinner for eight friends, including six bottles of fine Opine Cellars red wine. Start off with a fresh Greek salad and classic appetizer platter with scratch-made hummus and  baba ganoush, olives, pita bread/crackers, olives, and raw veggies. Then move into a main course of spanakopita with a side of lamb meatballs in a pomegranate sauce. Cap this Mediterranean feast off with a baklava dessert like none other. This package is generously donated by Chef Erin Ely and John Jarboe of Opine Cellars. $850 value.
2. Soak in Eastern Oregon's Wallowa Mountains with a Stay at Unforgettable Barking Mad Farm B&B

Spend two nights with our friends and colleagues at the tranquil and elegant Barking Mad Farm B&B outside of Enterprise, OR at the base of the famed Wallowa Mountains. Enjoy the solitude of eastern Oregon, nearby Eagle Cap Wilderness, Wild and Scenic Rivers galore, the slowed-down pace of life, and possibly hear the unforgettable howl of wolves! Generously donated by Rob and Emily Klavins and Barking Mad Farm B&B. $800 value.
3. Four Nights at the Incredible Oregon Cliff House above the McKenzie River

Hanging 40 feet above the famed McKenzie River, up to 12 guests will stay four nights at this one-of-a-kind property, complete with a wiffle ball stadium! Just 40 minutes from Eugene, the Oregon Cliff House is finely appointed, includes a hot tub and 1,200 sf of deck overlooking the river, and provides immediate access to all that the McKenzie and its surroundings have to offer. Available December 15, 2019 – April 30, 2020 or October 15 – December 15, 2020, excluding Thanksgiving, Christmas, New Years and MLK weekends. Generously donated by Shaun Nugent and Serena Markstrom and the Oregon Cliff House. $2,745 value.
4. Classic Italian Dinner and Fine Opine Cellars Wine for Eight in the Comfort of Your Own Home

You and seven friends will be served up a traditional Italian feast in your own home. Start off with an antipasto platter that includes salami, cheese, olives, fresh cut raw veggies and bruschetta with pesto and burrata. Then work your way into a fresh green salad. A scrumptious lasagna will be offered (vegetarian upon request) paired with roasted green beans and scallions with a pine nut vinaigrette. A mouth-watering tiramisu will finish off this not-to-be-forgotten experience. Six bottles of fine Opine Cellars red wine will flow freely at your dinner party. Generously donated by Chef Erin Ely and John Jarboe of Opine Cellars. $850 value.
5. Dine in Style and Nestle in for Two Nights at This Cute Whiteaker Cottage

Enjoy Eugene's historic Whiteaker neighborhood and settle in in style for a two-night stay in a charming one-bedroom cottage. Complete with an outdoor hottub, these fully-appointed accommodations are within an easy walking distance of all the action in the neighborhood. This stay is paired with gift certificates from two Eugene favorite restaurants, Grit and Izakaya Meiji. Generously donated by Catherine Reinhart, Grit and Izakaya Meiji. $550 value.
6. Spend Four Nights Above the John Day River and Explore the Incredible Blue Mountains of Eastern Oregon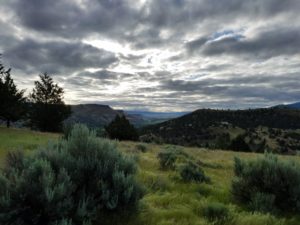 Deux View is a brand new, four-bedroom, three-bathroom vacation home designed for entertaining large groups with plenty of space for cooking, eating, relaxing, and spending time with friends. The home is located in John Day, Oregon, with a stunning view of the John Day Valley and Little Canyon Mountain. The sunrises and sunsets are amazing, with even better night sky viewing! Explore all the area has to offer, including the Painted Hills National Monument, John Day River and so much more. For use during 2020 during mutually agreeable dates between the home owners and package winner. Note that the third week of every month is not available. This package is generously donated by Susan Jane and Paul Brown. $1,750 value.
7. Wet and Wild with the Executive Director and 10 Friends on the Storied McKenzie River

Perfect for an office party, family reunion or a get together with old friends, up to 10 paddlers will enjoy a rafting trip on the Mighty McKenzie with river captain and Executive Director, Josh Laughlin, and seasoned boatsman, Jim Flynn. Complete with lunch, cold beverages, rafting gear, class 2 and 3 rapids, and a guaranteed good time. Available for use summer 2020 during a mutually agreeable date with the captains. Generously donated by Josh Laughlin and Jim Flynn. $1,200 value.
8. Unplug and Unwind in Wine Country West of Portland
Four friends will spend two nights at an elegant, 2-bedroom, 3-bath guesthouse on a working vineyard west of Portland between mid-August through the end of September 2020. Explore nearby renowned vineyards like Ponzi and Ruby and the region's fine restaurants. Play bocce ball, unwind at the fire pit or in the sauna, stroll through the property's forested trails, and learn the ins and outs of wine making on the estate. One night's scrumptious dinner and one morning's breakfast is prepared for your group, and you'll be sent home with four bottles of top-shelf wine from the region. Generously donated by Linda and Charley Merten and the Galas Family. Value: $1,400.
9. Once-in-a-Lifetime Excursion for Four into a Remote Fishing Resort Surrounded by Alaska's Tongass National Forest and Glacier Bay National Park and Preserve
Immerse yourself in Alaska's wildlands with this one week (6 night) stay for four with South Passage Outfitters, a family-style fishing resort in remote southeast Alaska.  This quaint cabin stay is nestled in cozy Gull Cove, where you will escape from crowded resorts and cruise ships and experience Alaska the way it was meant to be. Your stay at Gull Cove includes three square meals a day with local seafood and garden greens served daily. You'll enjoy halibut and salmon fishing, kayaking  and whale watching with boats, fishing gear and even freezer space provided by your host. At the end of your day, get cozy in the on-site sauna, or gather around the fire pit for some social time. Don't forget to visit the nearby Tongass National Forest and Glacier Bay National Park, where you can explore old-growth forest and glaciers and witness the unique wildflowers and wildlife of southeast Alaska. The excursion is available May-September 2020 during mutually agreeable dates with the owners. This is a once in a lifetime adventure in the big wild! Airfare/travel to and from Alaska and the resort is not included. Generously donated by the Montgomery family and South Passage Outfitters. Value: $8,000.
10. VIP Party and Catered Dinner at a Summer 2020 Lane United Soccer Game at Newly Opened Civic Park

At the game of your choice during the 2020 season, 12 friends, family members, or co-workers will enjoy a VIP experience at a Lane United soccer game at the newly opened Civic Park in South Eugene. The package includes seating for 12 in a private area, where a catered dinner will be served prior to kickoff with beer, wine, and cider. Attendees will also receive official Lane United scarves for this exciting event. This is a great way to root on our very own Lane United Reds as they enter their sixth year of top-notch competition in the nationwide USL League Two, and see the MLS stars of tomorrow! Generously donated by Dave and John Galas and Lane United FC. Value: $750.
11. Chinook Salmon Fishing for Two (and up to Four) on the Siuslaw River
Moody Trout's Guide Service will take two passengers for a day of salmon fishing on the Siuslaw River tidewater, with tackle, fish cleaning, and a hot lunch provided. The trip will take place during a mutually agreeable date between the first of September through October 2020. The winning bidder has the option of buying two more additional seats on the boat for another $200 each. Experience or beginning anglers are welcome. The winner just needs to bring weather-appropriate clothes for the day, a fishing license, and a good attitude. Tips are welcome. Generously donated by Josh Moody and Moody Trout Guide Service. $600 value.
12. Spend Seven Nights at Any Raintree Vacation Club Resort… Baja, Maui, Kona, Oh My!

Two guests will experience one week at any of the world-class Raintree Vacation Club resorts. Snorkeling in Kona, Maui, Cancun or Baja; skiing in Whistler, Park City or Telluride; reveling in Las Vegas; golfing in Palm Springs… are just a few dreamy possibilities. Enjoy standard accommodations (no upgrades) during the 2020 calendar year (excludes holiday weeks/weekends and does not include airfare. Generously donated by Jonathan Leong. $2,500 value.
13. 25 Friends Will Join the Cascadia Wildlands Staff for a Taco Party, Scratch Margaritas, and ???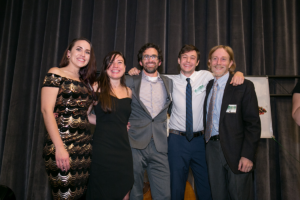 If you can't pull off a trip to Mexico with the Cascadia Wildlands staff, you are going to have to settle for joining them at Legal Director Nick Cady's Hendricks Park abode for a taco and margarita party! Agate Alley Bistro will generously cater this gathering with a scrumptious taco bar for 25 friends. The Cascadia staff will be juicing limes and shaking reposado tequila into the finest scratch margaritsa this side of Tacovore to wash down the feast. Consider bringing in a band to set up on the new deck and really get this party started. Oh, and did we mention there is a large hot tub on the property? It is a blank canvas for you, your friends, and the Cascadia Wildlands staff. We like it wild! Available during a mutually agreeable date in 2020. Generously donated by Agate Alley Bistro and the Cascadia Wildlands staff. Priceless.