By Chris Woolston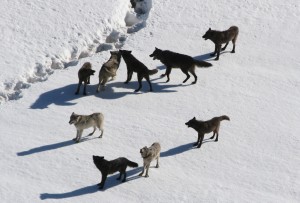 Nature
September 11, 2013
US plan to remove federal protection elicits howls of protest.
Central Kentucky is coyote country. But the 33-kilo­gram animal shot by a hunter near Munfordville this spring was definitely not a coyote. Its huge paws, broad snout and massive build suggested that it was a grey wolf (Canis lupus) — the first to be shot in Kentucky in more than 150 years. DNA tests confirmed the animal's identity in August.
The animal, a possible stray from hundreds of kilometres away in Michigan or Minnesota (although it cannot be ruled out that it was once captive), was also a player in a growing debate that mixes science, politics and passionate public opinion. From Kentucky to California, wolves are forcing biologists and policy-makers to re-examine the US Endangered Species Act (ESA) and the very definition of an 'endangered' species.
The act, introduced in 1973, was a landmark piece of legislation. Its purpose has been contentious ever since, but it is intended to save species "in danger of extinction throughout all or a significant portion" of their range. Although wolves have never been at risk of extinction in the United States as a whole, those in the 48 contiguous states were classified as endangered in 1978.