Eugene Weekly by Amy Schneider
It's been more than half a century since packs of gray wolves wandered the rim of Crater Lake and the Three Sisters Wilderness, but conservationists say that their howls may soon be heard again in those areas, once they disperse into western Oregon. Due to a recent settlement between several conservation organizations, the Oregon Department of Fish and Wildlife (ODFW) and the Oregon Cattlemen's Association, wolves are now granted increased protection by Oregon law, easing their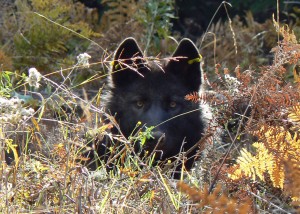 transition as they recover their population.
The settlement was the end of a legal conflict that started in 2011, when Cascadia Wildlands, Oregon Wild and the Center for Biological Diversity filed a legal challenge against ODFW's lethal control of wolves due to conflicts with livestock. As a result, the state lost the ability to kill wolves in relation to livestock deaths until the matter was resolved.
At the time, legislation regarding wolf control was vague. Josh Laughlin, campaign director for Cascadia Wildlands, says that in 2011 before the injunction, the state could resort to lethal control when a cattle owner experienced two livestock losses over an undefined amount of time. "Now with this new agreement, there are clear thresholds that must be met prior to lethal control," Laughlin says. "And under this new plan, lethal control should be really rare and a last resort."
According to ODFW's website, the new plan says that lethal control of wolves can only be used when four incidents of wolf-related livestock death occur over a consecutive six-month period. Also, livestock producers must show that they are actively using forms of non-lethal mitigation to discourage the wolves, including removing carcasses and bone piles from their fields, putting up electric fencing and being present during times in which cattle are particularly vulnerable, like birthing. One wolf, OR.7, also known as Journey has ventured into western Oregon but not yet formed a pack.
While this is only an agreement and the plan still needs to pass legislation, Laughlin says the new rules "have broad support across the political spectrum," including Gov. John Kitzhaber's office. Having specific rules in place will help to smooth conflict when wolves eventually disperse from their current habitat in northeastern Oregon.
"We're in the midst of a wildlife recovery success story, and with this new agreement in place, the story's just gotten better," Laughlin says.