By Bob Ferris
Our new collaborative T-shirt design with Ninkasi speaks symbolically and literally for rivers (at right).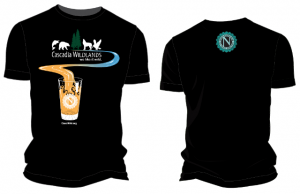 For instance, the river flowing out of us on the shirt and into a Ninkasi pint glass graphically represents our work to protect waters and Ninkasi's significant support for efforts to keep our region's waterways clean and wild.  This makes perfect sense as both our entities are headquartered in Eugene on the banks of a river and we operate in a region—Cascadia—that is defined by its cascading waters.  We are in water people.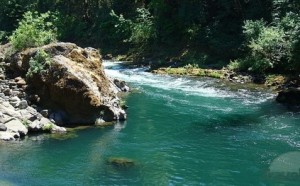 Cascadia Wildlands' water work is sometimes pretty obvious and upfront such as our efforts to get
suction dredgers
out of our precious salmon steelhead waters, our work to protect tree-lined, riparian corridors from harm and our advocacy against
harmful public lands grazing
. And sometimes our water work is a little more cryptic like our battles against
coal exports
,
LNG pipelines
and carbon export facilities.   But all of it is directed towards keeping the water that we live near, play in and depend on for life in a wild state.
This shirt design should be taken literally as well, because Cascadia Wildlands works to protect the McKenzie and other nearby watersheds which is where Ninkasi other local breweries gets their water.  Our recent, successful lawsuit on the
Goose Timber Sale
and our efforts now on the ill-advised Green Mountain Project (please click below to take action) all act to protect this globally-known watershed for people, fish and even beer.
For all of the above reasons we are proud of this shirt for all it represents.  And we happy that we will be able to start offering this shirt this coming Saturday May 10th at the Hoedown where we celebrate our partners in all of these efforts: You.
So get your tickets now to come square dance, drink some Ninkasi (and Oakshire) brews, play games, eat monumental vegetarian chili and cavort around a campfire with the finest bunch of people found in Cascadia.  Yee Haw!