New York Times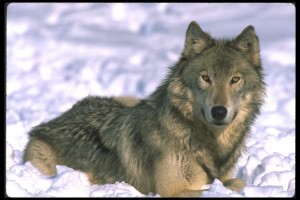 August 15, 2013
In June, the Fish and Wildlife Service prematurely proposed to end federal protection for gray wolves in the lower 48 states in the belief that wolves had fully recovered from near eradication in the early 20th century. This was politics masquerading as science. The Fish and Wildlife Service would love to shed the responsibility of protecting large carnivores, like the wolf and the grizzly bear, and hunters and ranchers throughout the Rocky Mountains would love to see wolves eradicated all over again.
By law, a decision like this one — to remove an animal from the endangered species list — requires a peer review: an impartial examination of wolf numbers, population dynamics and the consequences of proposed actions. But science and politics have gotten tangled up again. The private contractor, a consulting firm called AMEC, which was hired to run the review, removed three scientists from the review panel. Each of the scientists had signed a May 21 letter to Sally Jewell, the interior secretary, criticizing the plan to turn wolf management over to the states.
In the peer-review process, there is only the illusion of independence, for the simple reason that the Fish and Wildlife Service controls the appointment of panelists. The agency would like to pretend that these panelists were removed for their lack of impartiality. In fact, they failed to measure up to the agency's anti-wolf bias. The Fish and Wildlife Service is now busy covering its tracks. It postponed evaluation of the delisting plan because, it says, the identities of the panelists, which were supposed to be hidden from agency officials, had been discovered.
If wolves can't get a fair hearing at the federal level, what chance do they have at the state level? The answer is, very little. Scientists have already noted a 7 percent decline in Rocky Mountain wolves since they were delisted, and hunts authorized, in Idaho, Montana and Wyoming.
Wolves arouse passions that seem to preclude any effort to treat them the way they should be treated: as part of a natural, healthy ecosystem. That is how the Clinton administration understood wolves when it reintroduced them to the region in the mid-1990s, and it's how they should be understood now.