Register-Guard guest opinion by Frank Armendariz and Chris Daughters
March 24, 2013
In his March 10 guest viewpoint, Darold Smith suggests that suction dredge mining benefits endangered fish — but his claims are not supported by science, do a disservice to those focused on recovering our ailing wild salmon populations and offend businesses that rely on Oregon's clean water for their livelihoods.
In fact, fisheries experts have documented myriad deleterious effects that suction dredge mining has on imperiled fish. That's why the state of California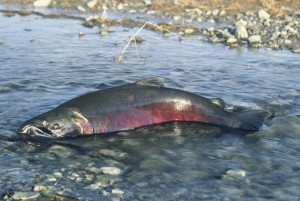 recently placed a moratorium on the practice, and it's why the Oregon Legislature is considering how best to safeguard our iconic waterways from this harmful activity. Decisive action to curb this reckless practice would create a lasting benefit for water quality, wild salmon and economic activity in Oregon.
As owners of river-based companies that rely on clean water and healthy fish runs for our success, we are encouraged that the Legislature is considering meaningful action to curb this practice that is fouling our common waterways. In search of gold, suction dredge miners require a noisy, gas-powered hydro pump and hose mounted on a raft. This equipment is used to aggressively vacuum sensitive gravel formations from the bottom of a river.
The river bottom and all the life it houses are passed through a sluice, where any gold flecks settle. The silt, debris and gravel are discharged back into the waterway, creating sediment plumes as long as a quarter-mile downstream. This makes an already compromised situation for aquatic life even worse.
With gold at near-record prices and the moratorium in California in place, a new gold rush is invading Oregon's iconic waterways, with motorized dredges sucking up and spitting out the river bottoms that are critical to the ecological health of our waterways. Wild salmon strongholds such as the Illinois, Chetco, Rogue and South Umpqua rivers have become ground zero for this destructive hobby — and ironically, these are rivers where millions of dollars of taxpayer money and thousands of volunteer hours have been used to restore wild salmon.
For Smith to suggest that suction dredge mining is beneficial for fish is like saying secondhand smoke is good for your children. The contemporary research suggests that fish mortality occurs from destruction of eggs and fry from the suction process; that spawning habitat is reduced due to sedimentation created from suction dredge plumes; and that invertebrates and bivalves (read: fish food) on the river bottom are violently sucked up and displaced.
Researchers have also documented that suction dredge mining resuspends toxic mercury that settled in our waterways during the original Gold Rush, and that this has a lasting negative effect on the food chain.
Designating new State Scenic Waterways by the Legislature will not just be positive for water quality and salmon, but also for business in Oregon. Our pristine waterways are a gift to our economy that keeps on giving. People from around the world come to catch trout on the beloved McKenzie,­ ride the whitewater of the Rogue, land a salmon on the free-flowing Chetco and camp on the rugged Illinois.
These are the hundreds of thousands of people who fill the coffers of motels and bed-and-breakfast inns, gas stations and grocery stores off the beaten path. And they are the people who help sustain small businesses like ours.
A state of Oregon study recently concluded that outdoor recreation is a $2.5 billion industry in our state and growing. Clean water is big business. Adding to the State Scenic Water­way System will only bolster this impressive statistic.
We are encouraged that legislators like Sen. Alan Bates, D-Ashland, are pursuing a remedy to the destruction of our common waters. Additions to the State Scenic Waterway System will protect many of Oregon's iconic river systems from harmful suction dredging and safeguard water quality for salmon and future generations. An action like this will pay dividends into the future for river-based business in Oregon and will further the legacy of clean water in our great state.
Frank Armendariz is the owner of River Trail Outfitters in Eugene. Chris Daughters is the owner of the Caddis Fly in Eugene.