OPB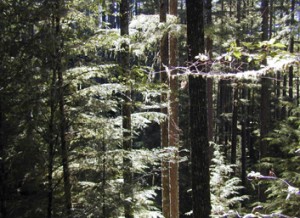 Top state officials on Tuesday agreed to move forward with the sale of scattered tracts of the Elliott State Forest, despite objections from conservation groups that they include nesting trees for a protected bird.
Gov. John Kitzhaber, Secretary of State Kate Brown and State Treasurer Ted Wheeler — who make up the State Land Board — unanimously backed the plan.
They said they're not trying to privatize the forest but need to balance conservation concerns against a constitutional requirement that the land generate money for public schools. Kitzhaber said the state needs to go forward with accepting bids to determine the value of the 2,700 acres, whether the land is sold to timber companies or conservation groups.
The Land Board is responsible for managing the Elliott, on the southern coast near Coos Bay, and other state forests to generate money for the Common School Fund, which supports public schools. Officials say the fund lost money in fiscal-year 2013 because litigation over habitat for the marbled murrelet, a threatened seabird, has all but halted timber sales. Kitzhaber said the state is likely to face a separate lawsuit from education groups if the Common School Fund doesn't turn a profit.
Critics of the plan said the state should be working harder to ensure the land falls into the hands of environmental groups rather than private industry.
"If you sold it to the timber industry at a cut-rate price, Oregonians would lose the remarkable, rare wildlife habitat, recreational opportunities that can only persist on public lands," said Francis Eatherington, conservation director for Cascadia Wildlands.
Kitzhaber responded that the sale would help establish a fair market value for the land, which would open up more options for divesting land in the future. Without knowing the value of the land, he said, the state can't negotiate exclusively with conservation-focused buyers because it wouldn't be able to prove it earned the maximum return for the land.
"I can certainly appreciate that from some standpoints, natural resources are invaluable, but the fact is that even a Picasso has some value on occasion when it changes hands," Kitzhaber told reporters after the meeting.
An appraiser hired by the state concluded the presence of marbled murrelets, discovered over the summer, would significantly decrease the value of the land up for sale, from an estimated $22.1 million to $3.6 million. Stands occupied by murrelets can't be logged, but the appraiser suggested a timber company might do so anyway, risking penalties to earn a high return.
The Elliott has historically contributed a tiny fraction of the billions of dollars Oregon spends on schools.
To take action, click below.