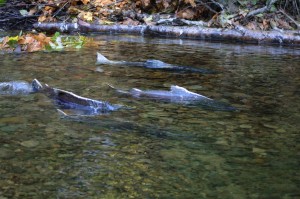 If you care about salmon and steelhead recovery in Oregon's most precious rivers like the Rogue, Umpqua and Chetco and want to protect these waterways from the harmful effects of suction dredge mining for gold, please come to Salem this coming Monday April 15, 2013 to have your voice heard. Please speak up for the fish and for quiet on the rivers we all enjoy and cherish. Public testimony starts at 3PM so come earlier and get signed up. Be prepared to give thoughtful and respectful testimony for no more than 2-3 minutes. Email Josh Laughlin to carpool from Eugene.
What:
Hearing on Suction Dredging Moratorium
Where:
Hearing Room C
900 Court St NE Salem, OR
When:
3pm on Monday April 15th.
Oregon residents, if you cannot make the above please submit comments and spread this notice around.
For additional background please see:
Western Mining Alliance and Brain Surgery by Dentists
Ted Williams article on Suction Dredging in Fly Rod and Reel Magazine
Statements by the Oregon Chapter of the American Fisheries Society