Auction time is always exciting at Cascadia Wildlands as the phones are ringing off the wall with folks wanting to donate items. That is all great. As time and tide progress, the office—what we jokingly refer to as the global headquarters of Cascadia Wildlands—starts to look a little like a poorly organized warehouse.
I walk around this occasionally when I am trying to get circulation going in my backside. On some level these office jaunts resemble those nearly clandestine, flannel-pajama clad excursions I used to have when I was very small to check to see what new item might have been deposited beneath a certain magical tree. Oh, the thoughts and dreams I had during those forays.
On one of my morning rambles this week I spied a pile from
Patagonia
and a stack from
Tactics
. There was a bust of Johnny Walker (you'll have to come to auction to find out about that one) and mushrooms along with some best-selling books from friends like
Rick Lamplugh
,
Cristina Eisenberg
and
Todd Wilkinson
.
But the one thing that struck me was that breweries, distilleries and vintners love us dearly. I say this because we have enough quality adult beverages donated for our auction to keep all of us "wild" for quite some time. We have, for instance, a "beer for a year" package from
Widmer Brothers
. We have a winery tour from
Willamette Valley Vineyards
as well as a tasting tour at
House Spirits
.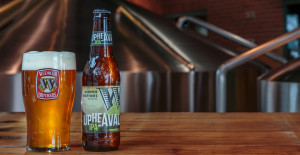 We have cases of beer from
Deschutes Brewery
and
Base Camp
in addition to wine from
Lane Benton
,
Opine Cellars
(who are also providing wine for the dinner) and boxes and bags of what can only be classified as oenophile assortments. And auction goers (of an age) will be treated to beer from our long-time supporters and Pints Gone Wild host—
Ninkasi
.