By Bob Ferris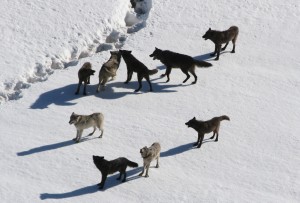 I have been working in the wolf arena for most of my post-college career and so I watched with great interest the crowds at the various wolf hearings which by all accounts and in all places leaned towards continued federal-level gray wolf protections. At the same time I have also watched as the condemning comments from the national and international scientific community have become more pronounced and wide spread and the vitriol and tactics from the anti-wolf forces have escalated and become more reckless.
Given all of this I felt the necessity to comment because we are nearing the wire at the end of the comment period on federal gray wolf delisting (December 17th), but it is sometimes a problem to think about these things when your wife is in the living room listening to golden oldies including Jefferson Airplane's classic White Rabbit. So some key elements emerged for me somewhere between the "pill that makes you larger" and "feed[ing] your head."
"Safari Club International may have been the only organization backing the FWS, a somewhat unusual position for the service to be in. But if FWS officials Gary Frazer and Mike Jimenez felt uncomfortable, they didn't show it, as the large number of speakers stretched the hearing well past its scheduled finish of 8:30 p.m."
Endangered Species and Wetlands Report October 1, 2013
"But more than 350 wolf advocates, who paraded from a nearby hotel and dominated the hearing, oppose the federal push to lift protection. They favor continued federal protection so that wolves that wander beyond their current stronghold in Wyoming, Montana and Idaho will have a better chance of survival."
Denver Post November 20, 2013
"Public comments on a pair of proposals by the U.S. Fish and Wildlife Service that would affect gray wolf recovery efforts nationwide ran about 2 to 1 in favor of expansion of the wolf recovery program, but cattle and sheep ranchers said the program is a failure and needs to be discontinued."
Albuquerque Journal November 21, 2013
"In the meantime, wolf advocates have been showing up in force at the federal hearings, along with a smaller number of ranchers. About 350 wolf advocates marched from a nearby hotel and dominated a hearing Tuesday in Denver, The Denver Post reported.
The turnout was similar Friday in Sacramento. The ranchers who spoke were often met with skeptical outbursts from the crowd. Those who called on federal officials not to delist the gray wolf as an endangered species received loud applause and cheers."
Sacramento Bee November 23, 2013
When the men (and women) on the chessboard
Get up and tell you where to go (Listen)
These consistent majorities for continued federal protections for wolves are encouraging but not the total story. So let's review. We now know that a
significant body of scientists
including the
American Society of Mammalogists
and most of the public (i.e., the owners of the wolves and the public land where they are recovering most of the time) oppose the premature delisting of gray wolves in the US. So the popularity footrace is won and the questions being raised nationally and internationally about the science indicate that the USFWS position is far from being without scientific controversy.
We also know that the opposition to delisting consists mainly of the livestock industry and some, but not all hunters. What's more these hunters are generally from the trophy hunting community that has been treated to a nearly constant barrage of anti-wolf rhetoric based on myths,
half-truths
and quite a few
outright lies
. Likewise we understand that these two narrow, but historically powerful interests have worked hard to convince some western fish and wildlife agencies to make statements supporting delisting. While some agencies have acquiesced to this pressure and issued statements, the prudence and appropriateness of these proclamations in the absence of inclusive public processes is being questioned by
state legislators in places like Washington
as well as by citizens who are engaged in the process.
The White Knight really is Talking Backwards
There is also ample evidence that the USFWS has historically exerted a greater geographic scope of effort for other species recovery efforts such as bald eagles, brown pelicans, peregrine falcons, American alligators, and grizzly bears making their geographically restricted stance on wolves arbitrary and nonsensical. The Service's exit strategy appears even more ethically and ecologically irresponsible as we observe state management actions post-delisting in the Northern Rockies and the Great Lakes that are not scientifically justified or even rational in some cases.
And study after study indicates that there is significant appropriate habitat in the Pacific Northwest and Southern Rockies as well as the need for other populations to insure the necessary connectedness between populations and the genetic dynamic that all populations need to thrive. In all of this we fully acknowledge that there have been great changes and developments in the way we look at species and populations. And yes it is complicated. Genetic analyses that are commonplace now and concepts such as minimal viable populations (MVPs) or habitat viability analyses (HVAs), for instance, did not exist when the wolf was first listed in 1973. But many forward looking leaders and scientists at USFWS understood that these concepts were coming which was why the federal listing was modified taxonomically and geographically in 1978. The current agency stance takes us back in times rather than forward.
The Red Queen cannot say "Off with their Heads"
While we are encouraged by the outpouring of all who have attended the meetings and submitted comments both from the advocacy community and from the halls of science, we are still very concerned as this is a decision that ultimately rests with Interior Secretary Sally Jewell—the veritable queen of wildlife in this country. We need to make sure she knows that the prevailing science and public opinion both hold that this delisting is ill-advised and premature. And we need to be loud and articulate enough to be heard over the mad hatters and march hares that are currently whispering in her ears.
We Need to Take the Pill that Makes Us Larger
All this means that we cannot sit back and be complacent. We really need one more final and "larger" push before the comment period ends on December 17th. We know all of have been working so hard on this for more than six months, but in the USFWS' current world view, "logic and proportion" do seem to "have fallen sloppy dead." Logic needs to awakened. So please make sure that you have filed comments with us or the USFWS. And help make us "larger" by sharing this post or similar pleas with friends and family. Exert a little extra effort and give the wolves a true gift this season.
[Author's Note: Before the cards and letters start flowing, I am really not making any statements in the above about taking pills or eating mushrooms one way or another, but I am advocating engaging in the type of advocacy some of us experienced in the 1960s or are trying to encourage during these times of needed change. Be the "White Rabbit" for the wolf and I look forward to seeing many of you at the auction this coming weekend. Bob]