By Bob Ferris
When I was in college I spent a lot of time taking field courses and hanging out in wild places. These were
wonderful experiences which I still pursue but the quality of these ventures were also greatly influenced by the nature of my companions. Most were spectacular, but some were kind of squeaky and whiny. In my circle of friends we eventually started to call these people "pampers wearers" because they complained loudly about things of little consequence so frequently they reminded us of infants encased in a poop-filled pair of the iconic disposable diaper.
This appellation grew in stature so much that I eventual took a side from a Pampers box and framed it in barn wood so it could be awarded to those within our group of biology or natural history students who started to drift towards this behavior pattern. I do not know where this award ended up 30 years ago, but I wish that I did because I would quickly wrap it up and send it Priority Mail to the Stevens County Cattlemen's Association in honor of their
whiny, fanciful post
on the Smackout wolf pack yesterday.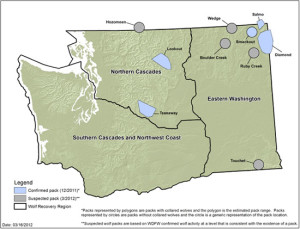 The SCCA richly deserves this Pampers Wearer award because they are so like those students bathed in the richness of nature who chose to focus rather on the dirt on their boots or the lone mosquito cruising round their heads. Cattlemen have been so immersed in a sea of privilege that includes heavily subsidized public lands grazing, farm bill give-aways and tax rates that never cover the services they receive for so long that they think these are "rights." They also—in their dirty diaper state—are completely blind to the impacts of their actions on wildlife, waterways and the public lands' experiences of others who also own those lands and often pay more for their use.
And lastly they deserve this award because of their infantile presentation of arguments and "facts." They, like very young children, confuse shrillness with rightness and in their blind entitlement grant themselves great license in terms of exaggeration and hyperbole.
My hope is that the SCCA takes some time to reflect and adjust their approach more toward the adult side of the equation, but my sense is that will not happen. Self-reflection and awareness do not appear to be in evidence, but I am willing to be surprised.