By Bob Ferris
"While some people are skeptical about the subject, the condition of "gold fever" really does exist. I know, because I have felt the heat and confusion on more than one occasion."
Dave McCracken
If there is truly such a thing such as "gold fever" in the West, Dave McCracken—or Dave Mack as he has self-styled himself—is the virus-infected-blanket of that disease. Part aspiring Indiana Jones and part cheerleader, Dave Mack is the leader of the New 49ers (as if the old 49ers did not do enough damage) and he has staked out a claim and is defending a business empire in a mysterious land that seems to naturally hover around the margins of legality and often stomps all over legal intent. He appears supremely comfortable in that Peter Pan land where the boys and girls of suction dredging can live and never grow up.
If you think the above claim about the The New 49ers and Mr. McCracken living on the legal edge is an exaggeration then perform the following informative exercise:
Mr. McCracken sells
gold dredges
,
teaches classes
and
runs a club
that is part classroom and dredger indoctrination center involving a
complicated scheme that puts gold club members and machines
on claims and money in his pockets in ways that were never anticipated by the 1872 Mining Law. While those who have plunked down up to $3500 to be life members of the New 49ers Club see this as about gold, McCracken himself characterizes it as a "progressive tourism program (with a gold mining theme)" in his
on-line resume
. Ironically, he and his followers are overwhelmingly from the anti-government camp, yet are supremely dependent on federal lands, state waterways and natural resources that are owned by all of us for their existence.
Dave Mack also looks to be the go-to guy when mischief or high school prank-like advocacy is needed. I can almost imagine some sort of situation where the suction dredging leadership comes together and in times of desperation loudly proclaims: Release the McCracken.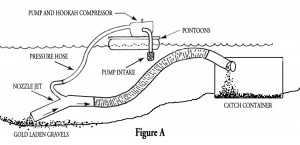 This year they released the McCracken again and now we are seeing the introduction of the suction dredge that does not suck but blows. And even through the device developers may have earned themselves a place in the Worst Marketing Slogan Hall of Fame with the catch phrase "We used to suck and now we blow," they clearly do not understand or are trying to actively mischaracterize the physics that makes all these dredges work. Suction dredges and this device too all work on the principle of creating a vacuum (i.e., suction) by forcing water up a hose and having other water–through the nozzle or this hopper arrangement–be pulled in to replace the displaced water.
I am all for humor—like the poorly photo-shopped picture of me gold panning at the beginning of this piece—and an occasional harmless prank, but the suction dredgers and Dave McCracken have taken this to a level where the mischief causes harm, thumbs its nose at our nation's courts and legislatures, and costs taxpayers money. Moreover, there is something truly sophomoric about these actions that seem ultimately as destructive as the suction dredging itself. Why as a society are we in anyway tolerant of these behaviors?
And more importantly, why are we letting a small, but very vocal and pugnacious minority intimidate us into allowing them to materially impact rivers and waterways where we are investing millions in efforts to restore salmon species that benefit us all? This becomes increasingly questionable when we understand that we are letting this miniscule segment of the population tear up gravel bars and riffles in waterways that have been closed to fishing because their salmon populations are too vulnerable to allow that disturbance. (Please listen to campaign partners Kim McDonald and Kent Lufkin on the
Open Fly Show
, their part starts about minute 24.)
These and other inappropriate behaviors–
including the threats to those with opposing views
–become increasingly relevant as we think about the future fate of the moratorium in California, consider adjustments to regulations in Oregon, and contemplate appropriate controls in Washington state. Laws and regulations for those who have a history of obeying laws and behaving civilly are necessarily different than similar actions for those who have demonstrated disrespect for laws and frequently behave like rebellious teenagers and thugs.
We all need to work together to put the McCracken back in the bottle and secure the cork tightly. Our precious salmon and wildland experiences should not be victims of his efforts (and those of the "McCrackheads" in the above videos) to find loopholes in the 1872 Mining Law and legislation enacted to reduce the impact of this destructive enterprise. Please join our efforts in Cascadia, specifically on actions in
Oregon
and
Washington
, to make sure that this brand of "gold fever" does not spread and compromise our real wealth.