By Bob Ferris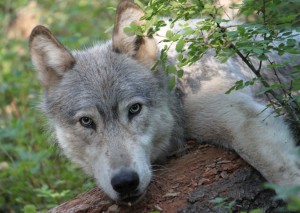 One of the distinct advantages for me of working in a small organization versus a large one in DC with security doors and receptionists, is that I get to talk with people and see how they are impacted by our work. Yesterday was a prime example.
About mid-day yesterday an animated woman came into our office semi-out-of-breath and beaming. She had a story to tell. She had just come back from camping in rural part of Cascadia about 150 miles from where a certain very famous wolf couple (i.e., Journey and Wanda) is currently thought to be tending to their pups.

"We heard them," she said.
And what followed was a discussion about wolves and wolf howls—how they sound and how they differ from coyotes or dogs. We talked about the deceptiveness of distance and a little wolf biology and then I asked her, "Did this enhance your camping experience?"
Of course I knew what her answer would be even before it came bubbling out because I'd had this conversation hundreds of times before. I did not have to listen to words because excitement was written all over her face and in the tone of her talk. I cannot say for certain what she heard and whether or not it was a wolf, wolves or "the wolves" and it really does not matter. She—like so many before her and many to follow—was excited simply by the hope of wolves.
This concept of excitement over the existence of something that is not seen and often not experienced has been discussed and debated for the two decades that I have worked on this creature of myth and mystery. The concept of existence value, though demonstrated repeatedly by hundreds of people lining the roads in Algonquin Provincial Park near the US-Canada border hoping to hear a wolf howl (you have to listen very, very closely) or thousands sending comments from New York City on wolf recovery, is a little like the wolf itself; either you get it or you don't.
The above operates on the emotional and my wife frequently ponders why we even bothered to hire a wedding photographer, because my expression is always the same. It is her way of saying I am a scientist and while I like the howls, I am excited on a deeper level by the ecological implications of the wolf and all that we are learning about this amazing critter. And I may not have been at that campground and heard that howl but I have been reading the literature and the last month or so has been pretty amazing with four papers of note.
The first one out of the chute is that paper about the BC coastal wolves and how diet and habitat might be creating genetic separation between
fish-eating coastal wolves and their inland neighbors
. I am still digesting this but had a short conversation with one of the co-authors, Paul Paquet, about this when we were writing
our piece on the ill-advised delisting proposal
by the US Fish and Wildlife Service. This is an interesting and thought provoking development and it brings to mind long ago, rancorous arguments in the scientific community about the possibility of species living with or near each other diverging in a process called sympatric speciation. Good stuff.
The second piece in this series has to do with a theme of much interest and debate: trophic cascades. Thomas Newsome and William Ripple out of Oregon State are the authors of a study that looked at fur trapping records across a broad expanse of Canada to see
how wolf populations impact coyote and fox populations
. This article puts the punctuation mark on the idea that trophic cascades—the trickle-down economics of the animal world (only this actually works)—need lots of apex predators across a broad area to work.
Cristina Eisenberg and I have had discussions about this idea that there is a critical mass required for
trophic cascades
. It seems key when we look at how broadly we have to recover wolf populations to get the benefits that we need to accrue.
The third article is the one on cougars and wolves. The research found that cougars tended to
avoid areas occupied by wolves
. This makes sense and addresses, in part, the concern that wolves act as an additional predator on the landscape when the story is likely more complicated than that. Here again, the functional outcome probably has a lot to do with density and distribution and argues against the notion that a few wolves in a few places is sufficient.
The last piece is fun. It looks at the
speculative function of face design and eye prominence
in the dog family or canids as it relates
to sociality. Wolves are the hands down, look-me-in-the-eye champs in this followed by foxes (at right) where we see the eyes but not pupils and then solo wild dogs where it is even hard to see the eyes. Who knew "gazing" could be so interesting and what are the possible implications here for the social function of face and eye make-up in humans? All very interesting so enjoy!
Without your help, wolf recovery will remain a shrinking shadow of a promise. We need your help to move beyond this concept of isolated wolf refuges surrounded by hostile territories.
So whether you gravitate towards wolves because of the howl or hopes of howls
or
the science grabs you or both, get engaged in the process and please get active.