by Josh Laughlin
I remember the first Hoedown for Cascadia's Ancient Forests real well. It was back in the early days of Cascadia Wildlands in the early 2000s when we were trying to figure out how to creatively raise revenue to support our conservation programs and have fun at the same time. Why not throw a beer party at a board member's horse-riding facility in the countryside near Cottage Grove, pipe in some bluegrass music through the riding arena speakers and bring in a caller? We all like keg beer, bluegrass and Lane County's pastoral countryside, right? But what about square dancing? It seemed like a recipe for possible success. We went for it.
It is likely we found the conservative, cowgirl who called out the squares to canned country music records in the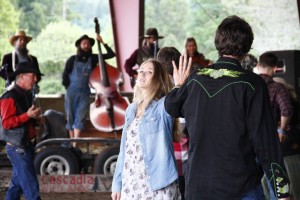 "services offered" section of the
Cottage Grove Sentinel
. Somehow, people turned out. In droves. Perhaps it was the biodiesel shuttle bus from Eugene with a keg on it that lured the crowd. It was fun watching people who have never square danced before alemaning and dosidoing thier partners under the covered horse arena as cold drizzle fell and a large bonfire raged that October evening. Volunteers even had to make an emergency late-night run into Cottage Grove to find a dive bar and another keg to keep the crowd fueled and dancing into the night.
The Hoedown has grown up a bit since then. Ninkasi, Oakshire Brewing, the Eugene Weekly and others sponsor the event. 40 volunteers make it happen. We've replaced the turntable with live bluegrass. Cutting-edge bands like the Dickel Brothers, Fog Horn String Band, and Conjugal Visitors have graced the flatbed trailer stage and picked to renowned square dance callers, like Bob Ewing, who has called the dances at the Hoedown for at least the last four years. This year, we've got Blue Flags and Black Grass lined up to whip you all into a square dancing frenzy. But it is absolutely still the same Hoedown at the same beautiful property with great live bluegrass and amazing community members joining together to celebrate the beauty of Cascadia through square dancing, networking and merry making into the night. If you are a prospective first-timer,
click here
for more information on the Hoedown.

I hope you will join us for the 11th annual Hoedown for Cascadia's Ancient Forests this May 10, from 6-10:30 pm. We've got kids (and adult) activities planned, including a tater sack race, water balloon toss and mini soccer with the Red Aces of Eugene Metro Futbol Club. It is lining up to be a spectacular evening with a veggie chili dinner, libations and good times to be had in the countryside just west of Cottage Grove. Click the button below for advance tickets and round trip shuttle bus ride from Eugene. Cascadia WIldlands looks forward to seeing you at Avalon Stables on May 10. Don't leave your Hoedown attire in the closet!