By Bob Ferris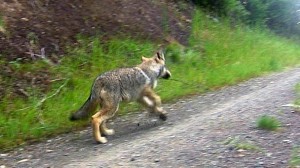 Nearly 20 years ago—before the Yellowstone and central Idaho wolves hit their habitats in 1995—I was asked to write a speculative piece on what impacts could be expected in Yellowstone with returning wolves. I remember using the phrase "wolf smorgasbord" a lot during those hopeful days. And many of my discussions with colleagues and in classrooms at that point started with dialogs about elk, carrying capacities, and the crash elk would soon experience having been uncontrolled since 1968 and saved from a precipitous tumble by the Yellowstone fires and the creation of acres and acres of emergent vegetation.
In my piece I talked about the elk and their peril as well as how wolves would likely impact forest-edge and stream-side vegetation. My sense at the time too was that coyotes would stop trying to act like wolves and that foxes and ravens would benefit from carcasses.
Most of us who talked about this at professional meetings had some sense that the impact of wolves would mean much more than just a reduction of elk numbers and distribution. Collectively these top-down impacts are known today as "trophic cascades."
The world of wolf conservation in the West has more than its fair share of conflict at this point. And dealing with
bad science
and
bad actors
certainly takes up much of our time at Cascadia Wildlands, but part of what sustains us as we wrestle with these issues is watching recovery unfold. We learn so much by watching the wolf.
Along these latter lines, I spent some time at the recent Public Interest Environmental Law Conference here in Eugene talking with our friend
Dr. Cristina Eisenberg
who is a researcher and writer specializing in wolves and trophic cascades. It was great to catch up on details and start the process of understanding the nuances of these cascades and what might trigger them or not. Density of predators is obviously one factor in the equation and that need for numbrs argues against many of the control actions that we see today.
Shortly thereafter we received this video about work in Washington State that is really worth a watch. Biologist Aaron Wirsing is examining how wolves might change the feeding behavior of deer. I particularly like the use of video cameras in this way. Being an old school deer biologist, I can really see where it takes the guess work out of what is eaten and when.
Eisenberg's and Wirsing's research reminds us of the importance of having wolves and other apex predators in our wildlands and the need to take actions that will help get them in more ecosystems faster and safer, such as maintaining federal protections. Their studies also emphasize the importance of research on apex predators and the pressing need for federal, state and private dollars to support research that further defines how these predator-prey relationships function as well as how the presence wolves affects populations of other predators such as mountain lions and bears. Part of all our efforts to bring reform to state wildlife agencies should include work to increase and focus funding on these investigations. Interesting and important stuff, because we like it wild.