By Bob Ferris
A little more than 20 years ago I started administering the wolf compensation program for Defenders of Wildlife.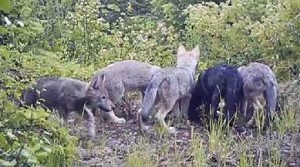 That meant that every compensation claim during my nearly eight years with the organization had to go through me to get signed and then paid. That also meant that I had to know the wolf side of the equation and understand the rancher or livestock owner's side as well. So I look at the Huckleberry Pack (video of pups in 2012 below picture above right) situation through that lens and what I am seeing (and hearing) bothers me.
The lack of agency transparency and the clear bias towards the livestock producer's rights rather than responsibilities is troubling in this situation involving an endangered species, but what irks me most is that I have written this piece before–twice in fact (
1
,
2
). This is the Wedge Pack incidence played out again only with sheep instead of cattle and on private lands rather than public.
Certainly Washington Department of Fish and Wildlife has made progress in terms of trying to do what is right by the species under their care, but it is very much a work in progress and very far away from the model we see to the south in Oregon. The agency has to do better and one way to get them to do that is to respectfully ask Governor Jay Inslee to intercede. So please click the below button to take action on this critical wolf issue and also spread it around to other activists.