The Statesman Journal by Zach Urness
June 25, 2015
Oregon senators Ron Wyden and Jeff Merkley introduced a bill today that would provide new environmental protections for 200,000 acres of land and 250 miles of river in the Beaver State.
The Oregon Wildlands Act would create one new wilderness area in the Coast Range, expand another wilderness area in Southern Oregon and create two new national recreation areas.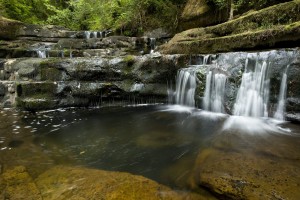 The bill would create the 30,500-acre Devil's Staircase Wilderness from a remote canyon of old-growth forest east of Reedsport in the Central Coast Range. It would also designate 14.6 miles of Franklin and Wasson creeks — which runs through the Devil's Staircase area — as Wild and Scenic Rivers.
The bill expands the Wild Rogue Wilderness by 56,000 acres and creates the 95,000-acre Rogue Canyon National Recreation Area in southwest Oregon.
Both the Devil's Staircase Wilderness and Wild Rogue Wilderness addition have been targets for conservation for the past decade, and introduced in bills in the U.S. Senate and House multiple times.
"These world-class landscapes in western Oregon are long overdue for permanent protection," said Josh Laughlin with Eugene-based Cascadia Wildlands, which has been working for nearly a decade to safeguard the areas. "They are what make Oregon such a desirable place to live, provide anchor habitat for imperiled salmon and wildlife and give us some of the cleanest water around."
Closer to the Willamette Valley, the bill would also create the 24,000-acre Molalla National Recreation Area.
"Protecting some of Oregon's most breathtaking and unspoiled lands ensures healthy habitats for countless species of plants and animals, benefits local economies that depend on these areas and creates new recreation opportunities for Oregonians and visitors from across the country," Wyden said in a press release. "Preserving these lands is a top priority, and Senator Merkley and I are going to be working to do all that we can to protect them."
Click here
to read each section by section of the bill.
(Photo of Devil's Staircase by Tim Giraudier, beautifuloregon.com)