Thank you, Ninkasi Brewing Company, for renewing our partnership for another season! And a big thank you to the following local artists:
---
August 5, 2013
Info:
Prepare to be mesmerized by local Egyptian style belly dancer,
Amani
, as she performs to the acoustic world beat of
Americanistan
. Amani's shows combine the folkloric dances of Egypt with Oriental belly dance. Amani will be accompanied by
local world music group, Americanistan, with tunes inspired by the Middle East, the Mediterranean, and beyond. They perform with many different acoustic ethnic instruments from Egypt, Turkey, India, & Europe.
July 1, 2013
Artists: Heavy Chevy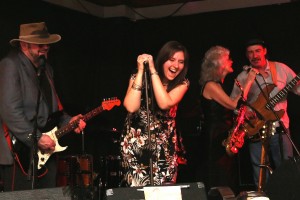 Info: Heavy Chevy delivers the one-two-three punch of Janie Smith's screaming sax, Darcy Lee's incendiary vocals and Brian Chevalier's electric and slide guitars, pouring out their guts through their own soul music. Michael Axel Fleming and Russ Whitlatch comprise the rhythm section with the fatback groove, deep and thick and hip-wagging.
June 3, 2013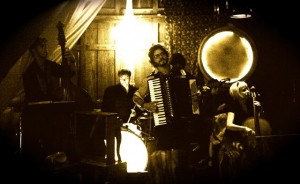 Info: Mood Area 52 started in 1998 as a Piazzola inspired neo-tango ensemble. Since then the group has incorporated Golden Age Tango material, lounge, electronica, Eastern European influences, Brechtian cabaret tunes, Americana, and original compositions about love, loss, genetic mutations, daring women in petticoats, and the ill-hatched crimes of ambitious charlatans.
May 6, 2013
Artist: Gaye Lee Russell and Her Badass Band
Info: Whether straight out rockin' the blues or mellowing out with soulful ballads, Gaye Lee Russell is a dynamic singer and an all-out charismatic entertainer. Gaye Lee shines as Rainy Day Blues Society Rooster Award winner 2009 for Best Female Blues Vocalist, and 2008 Best of Eugene Best Jingle Writer for her recording of Get Hip to the Eugene Green Scene. Singing professionally on stage and touring nationally and internationally from the age of fourteen, Gaye Lee Russell has continued to perform and record with major rock, jazz and blues artists. She has shared stage and studio with a diverse array of national and internationally known musicians such as Muddy Waters, Gil Scott-Heron, Robert Cray, Paul deLay, BTO, Joan Jett, John Mellencamp, Dan Siegel, Meredith Brooks, The Tommy Castro Band with Magic Dick, Kenny Lee and Deanna Bogart, Mason Williams, Mel Brown and Hadley Caliman, John Hendrix and Annie Ross among many other top-flight performers.
April 1, 2013
Info: The musical influences that have shaped and developed Inoke's heart for music are as varied as the cultures he has been exposed to. A native of Fiji, Inoke was first inspired by the 50s and early 60s rock, traditional rhythm & blues, and old fashioned country music that emanated from a little transistor radio at a "Weekly Hit Parade" in his home country. Then, as life travels took him to London, England, down through Southern Europe and Spain, and eventually to the US, he found his musical repertoire expanding to reflect the soul music, rock and reggae of London in the late 60s, the cultural rhythms of Cyprus, Lebanon and Spain in the early to mid 70s, and the funk, jazz, blues, and R&B of various US cities from the late 70s to the present.
March 4, 2013
February 4, 2013
January 7, 2013
Holiday Break – Happy Holidays!
December 3, 2012
November 5, 2012