Sarah Douglas (Treasurer), Professor Emerita, University of Oregon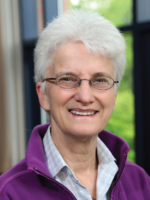 Sarah Douglas is a retired University of Oregon professor of computer science. (No, she doesn't do websites!) She is a life-long backpacker and mountain climber. Sarah has lived all over the US and in India, Spain, the Philippines and Bermuda. Finally settling in Oregon after her PhD at Stanford, she passionately believes in thinking globally and acting locally. She cut her activist teeth in the mid-60's for civil rights, free speech and anti-war movements at UC Berkeley. As an inveterate troublemaker, she helped form the UO faculty union and is always in the streets for people of color, women, and LGBTQIA+. Too old to tree-sit, she is now joyously able to devote energy to her passion of conservation by helping Cascadia act in the courts and in the streets. Sarah plays the violin and relaxes by listening to opera and classical music.
---
Gary Henderson (Secretary), Thermofisher
Gary has been part of the Cascadia Bioregion since 1989 and his three children are all Oregonians. Gary has always had a love for wild forest lands. "Our forests are such a treasure and I want to continue to defend our wild spaces and to be part of the change in cultural attitude about where the true value lies in the forests that are part of every one of us."
---
Kim Hyland, Windermere Real Estate
Kim has been in Eugene since 1995, finding her way here from Cape Cod and the Boston area. Kim has been a local Realtor since 2004 and spends as much down time as possible exploring Oregon's mountainous and coastal beauty. While hiking and biking are high on her list, her true passion is swimming. There is nothing like appreciating the splendor of Waldo Lake while crossing it in a wetsuit. Kim joined the Board in January of 2020 after many years of volunteering with and supporting Cascadia Wildlands.
.
---
Daniel Kruse (President), Law Offices of Daniel R. Kruse
Dan Kruse is an attorney in Eugene, Oregon specializing in environmental law and criminal law. Originally from New York, Dan studied music at Temple University in Philadelphia before moving to Eugene in 2003 to attend law school at the University of Oregon. Dan worked for Cascadia Wildlands as a law clerk from 2004 to 2006, and then as Legal Director from 2006 to 2011. Now in private practice, Dan continues to represent Cascadia Wildlands in several cases, including cases to protect wolves, marbled murrelets, and the Elliott State Forest. Dan lives in Eugene with his wife and two rascally children. Their favorite family camping spot is at Twin Lakes in the Umpqua National Forest.
---
Jonathan Leong, Aumakua Capital Management
Jonathan is an Oregon native, born and raised in the beautiful Willamette Valley. He is a Charter Financial Analyst and has earned his Masters in Finance at Claremont McKenna College, and received his B.S. from Harvey Mudd College, where he double majored in molecular biology and economics. He has spent his career building asset management firms in Hawaii, Los Angeles and Hong Kong. He finally returned to Oregon, where he spends most of his time operating his own firm, Aumakua Capital Management. When he is not working with his team, he spends his time teaching the next generation at Oregon State University, getting tossed off his surfboard somewhere in the ocean, or enjoying the amazing outdoors.
---
Dan Snyder, Law Offices of Charlie Tebbutt
Dan graduated from the University of Oregon School of Law in 2010 and has been practicing public interest environmental law ever since. He enforces our nation's environmental laws against polluters, representing the interests of individuals, local grassroots organizations, and national non-profits. His practice involves actions under the Clean Water Act, the Clean Air Act, the Resource Conservation and Recovery Act, the Endangered Species Act, the Comprehensive Response, Compensation, and Liability Act, and the Emergency Planning and Community Right-to-Know Act. Dan is also an experienced public records attorney, litigating Freedom of Information Act lawsuits across the country. When not in the office, Dan enjoys a round of disc golf, a trip to the river, or watching his beloved Ducks. He and his wife, Kirsten, are the proud parents of three kids.