Danielle Curtis, 2021 Summer Legal Intern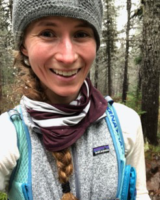 Danielle was born and raised on the Jersey coast, but identifies more with North Carolina where she spent her undergraduate years at UNC Chapel Hill. During her time at UNC, Danielle worked with the National Park Service monitoring sea turtle nests on the Outer Banks, volunteered in Southeast Asia on sustainable agriculture projects, and studied the impacts of climate change for NASA. After graduating with a degree in environmental studies, Danielle spent a year at the Lawrence Berkeley National Lab. Completing her lap around the country, Danielle began law school at the University of Oregon in 2020. When she isn't buried under a mountain of textbooks, Danielle can be found in the actual mountains running lots of miles, experimenting with plant-based cuisine, or planning her next adventure.
---
Marty Farrell, 2021 Summer Legal Intern
Marty grew up just outside of Philadelphia and graduated from Saint Joseph's University in 2017 with a degree in English Literature. After graduating, he worked in development and community relations at a shelter for people experiencing homelessness in Philadelphia. He moved to Eugene in the fall of 2020 to attend Oregon Law and pursue a career working for environmental justice. When he isn't working, you can find him listening to music while running roads and trails.
---
Elie Steinberg, 2021 Summer Legal Intern
Elie spent her upbringing in Las Vegas, where she often escaped to Red Rock Conservation Area and developed a passion for preserving wild places. She is a JD candidate at Lewis & Clark Law School and is pursuing a certificate in Environmental and Natural Resources Law. On her days off, you can find her skiing, biking, swimming, fly fishing, and doting on her new puppy, Tuna!