2023 Summer Legal Interns
With the generous backing of the Evergreen Hill Education Fund of Oregon Community Foundation, we welcome our summer 2023 law clerks and are excited about helping build the next generation of public interest environmental attorneys.
Andy Archer (he/him)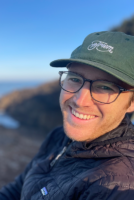 Andy grew up in Bend, Oregon, where he was inspired by the natural beauty of Cascadia from an early age. He spent his childhood fly fishing on the Deschutes River and skiing in the Cascade Mountain Range. His passion for the outdoors led him to the University of Oregon where he studied Environmental Science. He then worked in the fly fishing industry, connecting with anglers and wild fish around the globe before returning to the University of Oregon as a law student in 2022. When he isn't in the library, you can find Andy fly fishing, rafting, or camping somewhere in Oregon.  
Elissa Karim (she/her)
Elissa is a second-year law student at the University of Oregon. She grew up in the foothills of the Sierra Nevada Mountains in Northern California and graduated with a degree in politics from Cornell College in Mount Vernon, Iowa. Elissa then worked on nuclear disarmament and progressive foreign policy issues before pursuing a public interest environmental law degree that will enable her to achieve the kind of positive impact she wants to make on people's daily lives and the planet.
Kelsey Shaw (she/her)
Kelsey was born and raised in Seattle but has called the Portland area home for the last ten years. Growing up near Puget Sound instilled a lifelong love of forests, mountains, and saltwater. After several years working in outdoor recreation, Kelsey developed an interest in public lands and environmental policy. She especially enjoys helping fellow recreationists nurture their relationship with natural areas and encouraging them to become advocates. Her affinity for forest ecosystems eventually drew her to Lewis & Clark Law School, where she is a second-year student studying environmental law