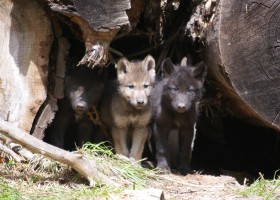 Actions under the federal Endangered Species Act are supposed to be guided by the "best available science." Unfortunately politicians and administrations are far too often influenced by industry pressure exerted mainly by the livestock, timber or energy sectors. When this happens non-profits like Cascadia Wildlands must use legal tools, including lawsuits, to remind the US Fish and Wildlife Service and other agencies of their obligation to be driven by science.
These are complicated and costly undertakings. With the proposed federal delisting of wolves in nearly all of the lower 48 states, we are fairly certain that the US Fish and Wildlife Service will need reminding in one way or another of their obligation to adhere to science and not bow to pressure from the special interests. Therefore, we are beginning a campaign to raise funds to cover the expenses associated with dissuading the Service from taking this ill-advised pathway or pursuing legal action should they not listen to reason.
We are hoping that you will help this us and help the wolves by making a generous donation today. Together we will help maintain federal protections for this iconic species and important ecological actor. Thank you!
Click button below to donate to the Cascadia Wildlands Wolf Defense Fund.