Thank you to everyone who came out to celebrate and be a part of our event!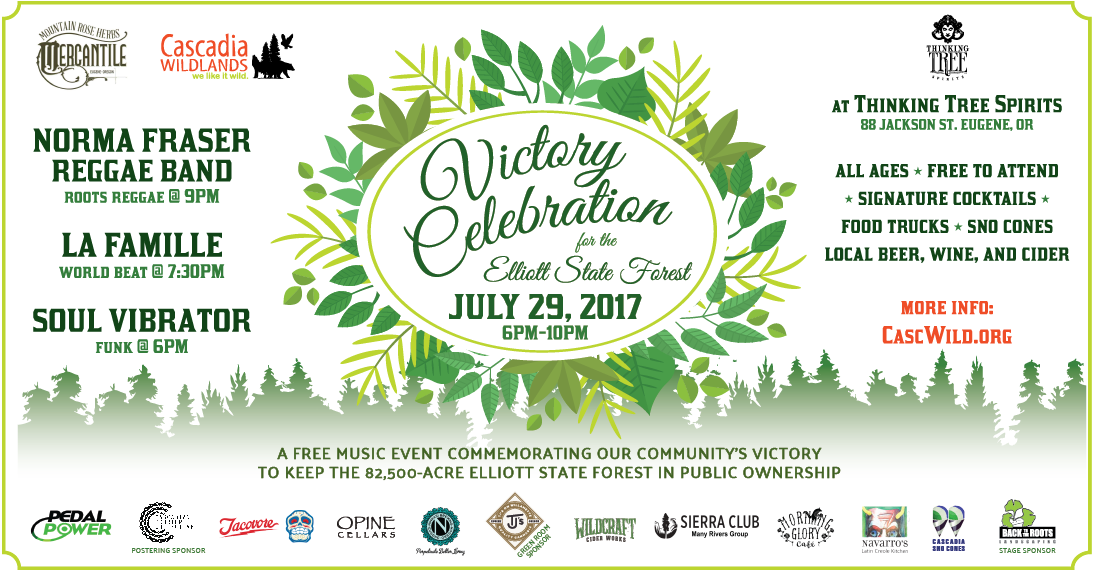 In honor of our community's perseverance and passion for public lands, Cascadia Wildlands, Mountain Rose Herbs and Thinking Tree Spirits invite you to join them for a Victory Celebration for the Elliott State Forest from 6-10 pm on Saturday, July 29.
Once threatened with privatization, which would have reduced public access and led to degraded water quality and an increase in old-growth forest clearcutting, the 82,500-acre Elliott State Forest in the Oregon Coast Range is now poised to remain in public ownership due to relentless advocacy by our community! Thank you for all your efforts!
We are in for a real treat musically.
At 6 pm, local funk sensation Soul Vibrator will kick things off.
At 7:30 pm, world beats of Tony Riedl's La Famille will fire up the stage.
At 9 pm, the victory celebration will be headlined by the legendary Norma Fraser Reggae Band.
above: left, Norma Fraser (photo courtesy of Norma Fraser); right, Soul Vibrator (photo courtesy of Soul Vibrator).
Available at the event, food and libations will include: signature cocktails by Thinking Tree Spirits, Ninkasi Pacific Rain IPA, Ninkasi Helles Belles Lager, WildCraft Cider Works hard cider, Opine Cellars wine, iced tea from Mountain Rose Herbs, Navarro's Latin Creole Kitchen, Sweet Spice Jamaican Grill, and Cascadia Sno Cones. There will also be face painting for the kids!
There will be outreach tables for: Cascadia Wildlands, Sierra Club — Many Rivers Group, and Forest Web of Cottage Grove. Staff and volunteers with these groups will be there to answer your questions and connect with you. Don't forget to check out our new CascWild swag, too!
The event is free and open to the public and will be held at Thinking Tree Spirits, a farm to flask distillery, at 88 Jackson Street in Eugene's historic Whiteaker neighborhood and is generously sponsored by Cascadia Wildlands, Mountain Rose Herbs Mercantile, Thinking Tree Spirits, Pedal Power, TJs, Tacovore, Sierra Club — Many Rivers Group, Cascadian Courier Collective, Morning Glory Café, Back to the Roots Landscaping, Opine Cellars, WildCraft Cider Works, and Ninkasi Brewing Company.