During the COVID-19 pandemic and this time of social distancing, Cascadia Wildlands is still committed to connecting with our community. While we can't meet in person, connect with us online for weekly WildChats with Cascadia staff, volunteers and allies!  This May, join the Cascadia team every week for campaign deep dives, skill-building workshops and panels featuring experts and stakeholders in our conservation campaigns.
Register below to join us on a May WildChat
While you're at it, consider joining us for the whole May series!
Check out the video recordings of past WildChats.
May WildChats Calendar
Every Tuesday 5-6pm

May 5th: Wolves in Wild Cascadia
Our May 5th WildChat will focus on grey wolf conservation efforts through the Pacific Northwest, and how you can get involved to help restore these incredible creatures to Cascadia. Learn about the ins and outs of wolf management in Oregon and Washington, and pack updates through out the region.
> > This is a past event, watch the recording.

May 12th: Wildfire Science and Messaging
Our May 12th Wildchat will be a deep dive into the ecological, political, social and even economic aspects of wildfire in the Pacific Northwest. We'll discuss the ecology of Cascadia's fire-adapted forests, and discuss the nuances of wildfire with a discussion of common misconceptions and misunderstandings used to undermine forest health. We will discuss strategic messaging to defuse timber-industry propaganda about fire, while uplifting content about its regenerative effects on our forests and communities.
> > This is a past event, watch the recording.

May 19th: Timber Sales and How to Stop Them
Our May 19th WildChat will teach participants how to track proposed timber sales on public lands, and how to take action to stop them! Join us as we interview Chandra LeGue, Oregon Wild's Western Oregon Field Coordinator, Brenna Bell, Policy Coordinator with Bark, and Brodia Minter, Conservation Associate with the Klamath-Siskiyou Wildlands Center, for an in-depth discussion of how public lands forests get logged, and how activists can use the legal process to fight the destruction. We will be taking a close look at the NEPA (National Environmental Policy Act) process, exploring the life of a timber sale and how to engage in the public process. Join us for some stories, lessons, and insights from three amazing panelists who work in the field of forestlands defense!
> > This is a past event, watch the recording.
May 26th: Tales from the Field


Do you love going on hikes through beautiful forests? Do you wake up every morning boiling with rage over the mismanagement of our public lands? Well then we've got the thing for you!

Our May 26th WildChat will discuss field checking as a tactic in our campaign to protect native forests and watersheds. We will hear stories from the field from our WildCAT team, as well as from our allies to the North. Register Here!

Each week, Cascadia WildChats will bring unique content featuring hot topics in forest defense, fossil fuel resistance and threatened species protection.
We look forward to continuing to strengthen our community and grow our toolboxes as we navigate these difficult times together.
---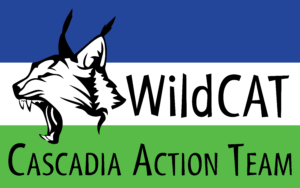 The Cascadia Action Team (aka WildCAT) is what we call all our volunteers. WildCATs help support our ongoing conservation campaigns through education, outreach, advocacy, and hands-on action.
* *In-Person meetings are canceled until further notice due to COVID-19. However, you can join us for online WildCAT Meetings on Zoom!
REGISTER HERE