by Gabe Scott
Small victories have been piling up in Alaska. It's starting to feel like spring (see Alexander Archipelago wolf pups at right from last spring).
Thanks to all of you who helped with the Cordova oil spill response port campaign. This little deepwater port project is a lynchpin to development on the Copper River and Prince William Sound, so it's important we hold the line. Opposition to the Shepard Point road and its industrial deepwater port, and support for practical alternatives, dominated the public comments. Hopefully the Army Corps of Engineers with do the right thing and deny the permit. Meanwhile, we're working with Eyak Preservation Council to develop plans for one of the alternative locations in Cordova.
Nationally, there has been some progress in the fight against approving AquaBounty's genetically modified salmon, aka Frankenfish. Kroger and Safeway, the #2 and #4 groceries in the country, have joined the rising tide and forsworn AquaBounty's genetically modified fish in their stores. While the final Food and Drug Administration decision and its timing remain a mystery, market pressure is becoming untenable.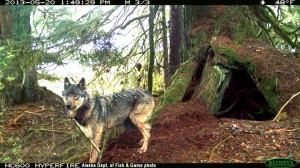 On the Tongass National Forest, the Big Thorne old-growth timber sale remains on hold, pending consideration of the massive clearcutting project's impact on the Alexander Archipelago wolf. State and federal official are holding what they call a "wolf task force"— although in this case the acronym, WTF is more apt — to think long and hard about whether clearcutting several thousand acres of old-growth is a bad idea, given that wolves seem to be disappearing as a result (see the above pup's mother at left).
A powerful clue came recently when Greenpeace and the Center for Biological Diversity won a 90-day finding that listing may be warranted on their petition to list this unique wolf on the federal endangered species list. This is another step forward in the long process to ultimately listing the wolf. That's an immensely powerful tool that could protect wolf habitat and the old-growth trees needed by their primary prey, Sitka deer.
Alaska politicians hate the Endangered Species Act. In fact they hate legal barriers to development of every stripe. Which brings me to the happy death of Alaska House Bill 77. It's not often we lobby, but helping kill HB77 was an exception. HB77 was the governor's wide-ranging bill to "streamline" all kinds of permitting, by erecting barriers to public participation and legal challenges. An inspiring tide of public opposition overwhelmed the politicians, and last week the bill died unceremoniously. It was surreal to testify before the legislature by teleconference, along with citizens from the Arctic coast, Bering Sea coast, Gulf coast, interior, and southeast. It was heartening to remember how many of us there really are.