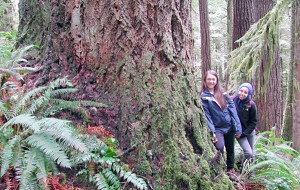 Future management of the 93,000-acre Elliott State Forest located northeast of Coos Bay is at a pivotal crossroads. The State Land Board (made up of Governor John Kitzhaber, Treasurer Ted Wheeler, and Secretary Kate Brown) is the trustee of the Elliott and will be hosting a special "listening session" in North Bend on October 8 to take public testimony on the future management of the forest. There are a number of proposals currently being considered by the state, including a reckless one that would dispose of the entire Elliott to Big Timber. The session will provide a tremendous opportunity to encourage a conservation solution for the Elliott that safeguards the forest for its outstanding values, like clean water, wild salmon, carbon storage and recreational opportunities.
Special State Land Board "Listening Session" on the Elliott State Forest
Wednesday, October 8, 3-6 pm
Hales Performing Arts Center (1988 Newmark Ave.), North Bend, OR
Carpools from Portland, Eugene and west of Roseburg are being planned. For more information and to RSVP for the Portland carpool, email
Micah Meskel
. The Eugene carpool will leave at 12:30 pm from behind FedEx Office on 13th and Willamette St.. Email
Josh Laughlin
for more information and to RSVP. The carpool from west of Roseburg will leave at 1 pm. Email
Francis Eatherington
for meeting location and to RSVP.
Preparing your testimony:
Please consider preparing three-minute (maximum) testimony on behalf of yourself or the organization you represent. You should also plan to leave a hard copy of your testimony with Land Board staff after you testify. If you can't make it to the meeting on October 8, consider submitting your comments to the Land Board by
email
.
Possible talking points include:
       Decouple old-growth clearcutting from school funding on the Elliott
       Protect the Elliott's remianing native forests, wild salmon and imperiled wildlife
       Safeguard the Elliott for its hunitng, fishing and recreational opportunities and potential
       Promote timber jobs on the forest by restoratively thinning the dense second-growth tree farms and enhancing fish and wildlife habitat
       Oppose the privatization of the Elliott State Forest
It is encouraged that you personalize your testimony and remind the State Land Board why the Elliott is so important to you or your organization. Thanks for speaking up for this outstanding public resource!
(School kids stand in the threatened Elliott State Forest. Photo by Josh Laughlin)