A Message from Bob Ferris
Cascadia Wildlands' catch phrase is: we like it wild. But it could just as easily be: we get things done. Recent examples? Sure.
– Our lawsuit and settlement prevented the State of Oregon from killing wolves when and where they wanted. The Oregon Department of Fish and Wildlife now has enforceable rules to follow, and we have a growing wolf population including pups from all seven packs this year.
– Through a legal challenge, we halted clearcutting in federally listed marbled murrelet habitat in three coastal state forests in Oregon. We stopped it so decisively that the state eventually cancelled 26 old-growth timber sales in the Elliott State Forest alone.
– When suction dredge miners looking for gold in our precious salmon and steelhead waters migrated north from California and south from Washington, we worked with partners in the conservation, fishing and recreation industry, and Oregon legislators, to trim suction dredging numbers down to pre-2009 levels and chart a course for keeping these damaging machines out of our salmon and steelhead waters.
– And we protected Waldo Lake's tranquil waters from float planes and combustion engines, and we helped derail a proposed coal port in Coos Bay addressing both water quality and climate change.
We did all the above with a number of partners, but our most important partner in this enterprise is you. Without your support, our effectiveness is greatly limited.
The above are iconic victories, but they are also really the tip of the iceberg in terms of what Cascadia Wildlands does across the length and breadth of our precious bioregion.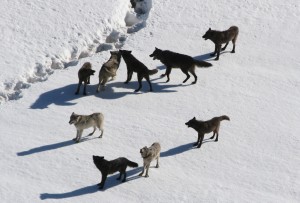 For example, wolf recovery in the Pacific West and much of the Lower 48 states seems constantly in jeopardy with the on-going federal delisting proposal. It is so politically and procedurally compromised that it hurts to even think of what the US Fish and Wildlife Service is trying to get past us. We are injecting science into the delisting process as well as working with states like Oregon, Washington and California to make sure their wolf plans lead to more wolves in more places.
We are also trying to block approval of genetically modified fish, the so-called Frankenfish that could sink vulnerable and economically important salmon fisheries from Alaska's frost-cold waterways to California's raging rivers. And we are continuing to build off our recent legislative victory curbing destructive suction dredging and enforcing protection for imperiled bull trout—a species that absolutely needs clean and cold water.
We are standing firm against on-going efforts by Big Timber, tax-adverse Oregon counties, and short-sighted politicians willing to return large portions of federal forests known as the O&C lands in western Oregon to the clearcutting practices of the past rather than ask their citizens to pay reasonable taxes. We need to fund essential services, but a return to clearcutting is not an act of an educated people who have learned from past mistakes.
The carbon export battles continue, too, with multiple proposals to create terminals, pipelines, and rail routes to ship climate-altering coal, liquefied natural gas (LNG), and oil, to competing economies overseas. We are active in all, but our main thrust is the LNG export terminal proposed for Coos Bay and the associated 230-mile long Pacific Connector pipeline. We cannot let this pipeline slice through old-growth reserves and salmon streams or let the resultant carbon emissions further sour our oceans.
And then there is the Tongass National Forest in southeastern Alaska where Alexander Archipelago wolves, five species of salmon, Sitka deer, and bears, are put at risk to maintain a few hundred timber jobs – and the risk is not just
to wildlife. Those 100-300 jobs also put nearly 20,000 jobs in fisheries and tourism at risk—including 1,200 commercial fishing jobs enjoyed by residents of Oregon.
These are huge challenges, and we are deep in these issues or preparing ourselves and our allies to protect those lands, critters, and communities, that need our voice and our own particular kind of lean, mean, and effective advocacy and action.
But not all of our actions are defensive in nature. We are also taking both our Oregon approaches to wolf management and suction dredging on to states such as Washington. And we recently merged with Big Wildlife and now are developing programs to protected neglected mammalian carnivores like coyotes, black bears, cougars and bobcats.
In addition, as we hit our 15-year mark and travel towards our 20th anniversary in 2018, we are also changing. We are evolving from being a local group with a regional impact to becoming a regional group with a global impact. It feels good, and we have you to thank for helping us reach this point in our history. We need to move forward and address more issues, and we hope that we can count on you to help us accomplish all of the above and more by making a donation to Cascadia Wildlands now. It is an exciting and challenging time, and we hope you are along for the ride.
Because we like it wild, and we know you do, too.
Thanks for your support,

Bob Ferris
Executive Director
From now until the end of November 2013 our friends at Mountain Rose Herbs have generously offered to match all donations earmarked to Cascadia Wildlands' wolf program, up to a total of $5,000. So any gift you make on behalf of these magnificent creatures will have double the impact!