For immediate release
February 13, 2013
Contact
Gaye Lee Russell 541-844-1212 glrcaleb@yahoo.com
Josh Laughlin, Cascadia Wildlands 541-434-1463 jlaughlin@cascwild.org
Gaye Lee Russell and Her Badass Band to Perform for Cascadia Wildlands' Pints Gone Wild! Benefit At Ninkasi Brewing Co. on March 4
Eugene, OR — Eugene's own Gaye Lee Russell and her Badass Band have announced they will play at Cascadia Wildlands's first-Monday-of-the-month "Pints Gone Wild!" benefit from 5:30-7 pm on the Ninkasi Brewing Co. patio on Monday, March 4. The event is free and open to the public. Cascadia Trivia Night follows the music inside the tasting room.
25% of pint sales at the tasting room at Pints Gone Wild! is generously donated to Cascadia Wildlands to support a wide range of the organization's conservation work, including designating the Devil's Staircase Wilderness in the Oregon Coast Range, recovering gray wolf populations back into the Pacific West, and creating new state scenic waterway designations to protect wild salmon in Oregon.
Gaye Lee Russell and Her Badass Band are proud to support Cascadia Wildlands. "The landscapes of Cascadia give us our lifeblood, and we have an obligation to protect them," says Gay Lee Russell. "We are excited to be working with Cascadia Wildlands to ensure that future generations get a chance to marvel at our clean rivers, wild salmon runs and storybook wilderness."
Whether straight out rockin' the blues or mellowing out with soulful ballads, Gaye Lee Russell is a dynamic singer and an all-out charismatic entertainer. Gaye Lee shines as Rainy Day Blues Society Rooster Award winner 2009 for Best Female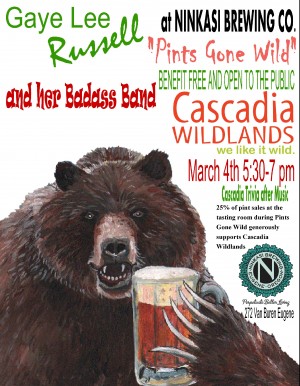 Blues Vocalist, and 2008 Best of Eugene Best Jingle Writer for her recording of Get Hip to the Eugene Green Scene. Singing professionally on stage and touring nationally and internationally from the age of fourteen, Gaye Lee Russell has continued to perform and record with major rock, jazz and blues artists. She has shared stage and studio with a diverse array of national and internationally known musicians such as Muddy Waters, Gil Scott-Heron, Robert Cray, Paul deLay, BTO, Joan Jett, John Mellencamp, Dan Siegel, Meredith Brooks, The Tommy Castro Band with Magic Dick, Kenny Lee and Deanna Bogart, Mason Williams, Mel Brown and Hadley Caliman, John Hendrix and Annie Ross among many other top-flight performers.
Formerly with Eugene's The BOE Orchestra, Random Blues Band and the Gaye Lee Russell Experience (a tribute to Janis Joplin), on March 4 Gaye Lee will be performing with her "Badass Band" that includes rockin' blues guitarist Chad Jensen, Steve Carlile-drums, Vince Black (formerly with Black Uhuru, Andrew Tosh, Sonny Rhodes, Eek-a-Mouse, etc.) and special guest artists.
The Ninkasi tasting room and patio are located at 272 Van Buren Street in Eugene's historic Whiteaker neighborhood.
*** A high-resolution photo of Gaye Lee Russell is attached for press use.
###